You may feel at a lost when it comes to choosing the right products for your precious baby. How can you protect the softness of your babies while also keeping them clean and healthy? The long trusted soap company 牛乳石鹸 "Cow Soap" has come up with a series of products that will gently clean your baby's skin and ensure a happy bath time. It's Kewpie Baby Soft Soap Series! There are body soap bars, liquid shampoos, and bubble type body soap that are made through special manufacturing methods, so that way both you can your baby can use them safely. Let us introduce you to some of their products.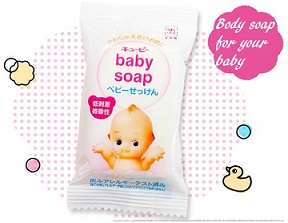 One of their most popular products that have been trusted by mothers and fathers for ages is their "baby soap," perfect for washing your sweet baby from head to toe. The package design features an adorable Kewpie baby doll mascot. The skin of babies are quite delicate, so much consideration was made in the creation of this product line. These bars of soap are made using a special method of old-fashioned kettle cooking. By using this soap, you can cleanse your baby's body without creating any irritation while protecting its natural moisture at the same time!
Squalene and shea butter are included to keep the skin soft and plump. No additives and artificial ingredients are included in this product, so you never have to worry about irritating the skin ever again. It has a modest, sweet scent that isn't overbearing, and the type of soap caters to any skin type, so both you and your baby can use it!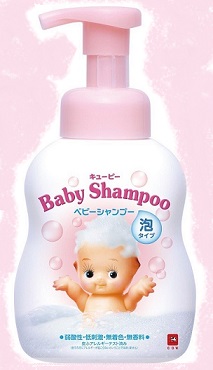 There is also baby shampoo for washing your baby's hair. The foam of this shampoo is marshmallow-like with fine bubbles, capable of washing your baby's hair mildly. It's easy for the foam to come off quickly when rinsing the hair with water, and it leaves the hair untangled and healthy. Conditioning is also included in the shampoo, as well as the same substances as the bar soap mentioned above to protect the moisture of the scalp. No artificial coloring and scents are included in this product, so you can use it worry-free! Which is more, it doesn't burn as much if it accidently gets in the eyes, unlike other brands' products out there. You can rest knowing that you've selected the right care product for your baby.
Why settle for any other product out there when you can't trust them 100%? With mysterious products left to right, it's difficult to tell what is right for caring for your baby. Some products claim they're good when they might be unknowingly using harmful substances. Truly gentle products should be free to use by any family member, and should be made in the consideration of the softness of babies. If you're interested in Kewpie Baby's body care products, scroll below for what we have to offer here at J-Subculture and never struggle with a worriesome bath time ever again.