For products, scroll down to the bottom ↓
It's the time of year when tasty smells of backing come to your nostrils and fine wine is served together with delicious morsels of foods. Christmas would not be the same without cookies or wine and so we like to present you a choice of related items that you can source via our PROXY and REGULAR SHOPPING services.
Baking is a joyful pre-Christmas activity that can be enjoyed by all members of the family, in the circle of friends or in twos. You make a couple different doughs, after they matured long enough you roll them out with the rolling pin to then get down with fun part of cutting out the cookies with the molds. Nowadays there all kind of molding forms available, with more traditional patterns such as trees and starts, or cute character shapes like the ones of SNOOPY, MINION, MOOMIN and of course much more:
Through our PROXY service you can also obtain unique utensils from shops directly here in Japan. For example, the CAKE LAND Online Shop offers different baking equipment such as molds or cookie cutters like the type shown below, which come with an edged that will allow to stick cookies on cups for decoration. Don't they look lovely!?
Some also like to bake cakes for deserts, which is probably a bit more time efficient and you get bigger servings done in one go. For instance, you can make cute houses like these to awe your guests:
A spatula might become in handy to get goodies out nicely in one piece from the backing forms. You don't want to have any broken off chunks there ;):
The pictures alone make the mouth water and want you to start right away with the baking. Well, no restraint, please pick the prefered baking utensils from down below.
From solid over to liquid - we have selected two smart products of the VACUVIN brand that you can use in relation with wines. The black small, roundish tool is a foil cutter and cork holder in one. After the cork is pulled out of the bottle neck, it can be conveniently put in between the arches for storage. On the other hand, we have the white longish item, which is a wine saver. No matter how many bottles you will be able to kill in one dinner party, you will always end up with bottles that have leftovers. Suck out all the air with the wine saver that will assure the wine's quality remaining for up to 10 days through the vacuum seal. Pretty neat, what you think!?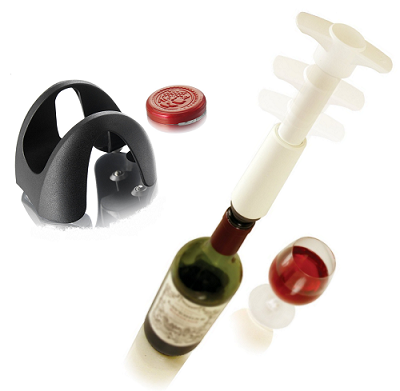 You can use the items here mentioned for yourself or easily present them to someone else because they make also practical gifts. If you look for some more gift ideas, please take a look at the HER & HIM recommendations, which we have prepared in another post. You can also try our AUCTION service for more options. If you search for particular items that are not listed here or elsewhere on our page, we might still be able to find it for you, therefore please don't hesitate to ask our devoted team staff.
Please take your time to browse our various offers. Should you search for a particular item that is not listed below or otherwise not detectable in our storefront, please don't hesitate to contact our team, we will be happy to assist with any query and to search for specific items. Also PRE-ORDERS are possible in most cases. In the event that you would spot any errors for products, offers or other areas on our page, please inform us about it, so we may improve our services to provide a better shopping experience for the future. For the actual products, please be aware that they could differ from the images displayed here. With all that said, please enjoy your tour in our shop!