Welcome to Pokemon Market! It seems like Pikachu is still wondering what to get, while Jigglypuff wants a lot of food. Let's enjoy shopping together with Pokemon, and see what they have in the market today...
The Pokemon Market series boasts of simple, daily use goods that feature charming, retro designs. The Pokemon on the goods have a classic feel to them, which makes each item timeless. Light maroon colors and shades of teal will allow us to combine the goods with any outfit. Some items are crafted by a wool-like material, perfect to match this chilly season. We'll introduce some of the popular goods avaliable at J-Subculture:
These 巾着 (kinchaku, Japanese draw string bags) fit any of your small items, such as candies, cell phones, and even Pokeballs! They have the design of Pikachu sitting in thought and adorable Jigglypuff the color of pastel pink.
These two cups have the trademark design of "Pokemon Market." One has the Pikachu family, while the other has a happy trio of Snorlax, Jigglypuff, and Togepi. You can stack these cups together neatly and keep them in your home in a fashionable order!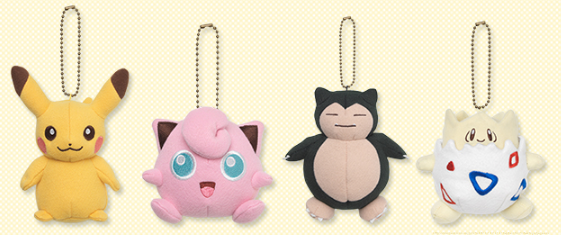 The small mascot series fit in the palm of your hand. They're the perfect size to have on your bag or backpack! The color of their material is quite pale and soft compared to most goods, so having your little Pokemon friend with you will wrap you in a warm aura. They will complete your autumn/winter look this year!
Besides these goods, we have many more from the Pokemon Market series. There are kitchen goods like bento boxes, to apparel like classic wrist watches. With such simple and nice designs, you'll want to collect them all! If you're interested, just scroll below to view what we have in stock here at J-Subculture today!