Would you care for a nice, steamy bowl of Japanese ochazuke? Ochazuke or Chazuke (お茶漬け) is a simple Japanese dish that is favored by many all over Japan, as well as by people overseas. The word "Ochazuke" comes from the words 茶 (cha, tea) and 漬ける (tsukeru, submerge). It contains basic Japanese ingredients such as Japanese seaweed and tsukemono. It is easy to make and has a modest taste that will warm your heart.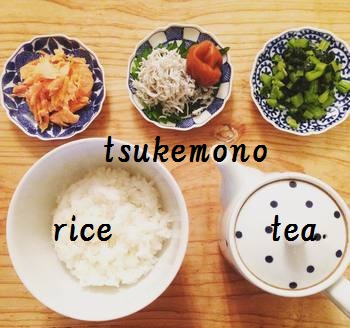 There are many variations of Ochazuke. Its most common forms contain umeboshi (pickled plums), salmon flakes, and kombu separately. Ochazuke most often includes the usage of Japanese seaweed and small rice crackers called あられ (arare). You can use different kinds of tea to pour into your rice bowl, such as green tea, hojicha (roasted green tea), mugicha (barley tea) and more. You can even use just boiled water for a simpler taste. Since it is warm and filling, it is often eaten as a comfort food in the winter. However, you can enjoy this meal in the summer as well through replacing the boiled water with chilled water.
Now, it is very common to find stores in Japan selling instant packets of ochazuke. They contain freeze-dried ingredients so you can enjoy the same taste of ochazuke served in Japanese restaurants. They also come in a variety of flavors like ume and wasabi. All you have to do is pour the packet of ochazuke onto your rice, go over it with boiled tea or water and voila! You've got yourself a delicious bowl of genuine ochazuke, ready to eat!
If you'd like to try this popular Japanese dish, you can purchase packets of instant ochazuke from J-Subculture, or bid for them on auction! Whether you're a Japanese cuisine newbie, or just missing the taste of Japanese food, the humble dish of ochazuke is certain to satisfy your needs. Spend this winter with delicious Ochazuke!