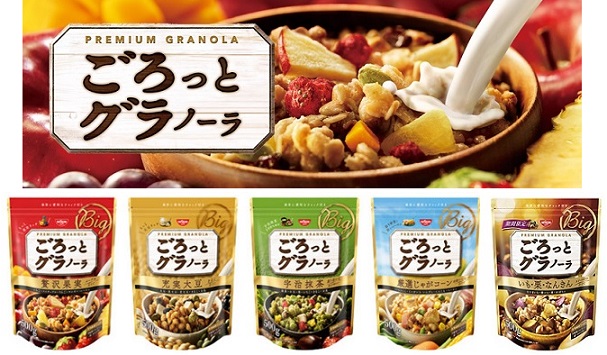 Ready for a better breakfast? Start the morning off right with a bowl of "Gorotto Granola," a kind of premium granola sold in Japan. It has made a big hit from its delicious, irresistible flavor and enjoyable texture.
Starting from the far left, we have the following flavors of granola: MAPLE x FRUIT, KINAKO, MATCHA, CORN, & SWEET POTATO x CHESTNUT!
The Japanese company Nissin has introduced a new kind of granola in Japan that is making waves. It features healthy toppings that are large and flavorful. They're described as ごろっとしている, (gorottoshiteiru, being round and large), hence the name. With many healthy grains and colorful appearance, you can tell how it will make for the perfect breakfast with a mere glance...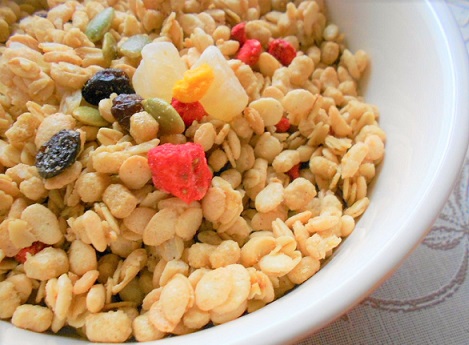 There are many types of Gorotto Granolas that you can enjoy. The standard is its maple flavored granola. In this granola, you can enjoy toppings of dried fruit such as strawberries, apples, and mangoes! There are also pumpkin seeds, raisins, and pineapple chunks. Also, if you're a fan of Japanese traditional flavors, then you will definitely fall in love with the matcha flavored granola and kinako powder flavored granola! Besides these flavors, there is also a vegetable-based granola that can't be beat! With its natural, simple flavors, once you start eating you won't be able to stop!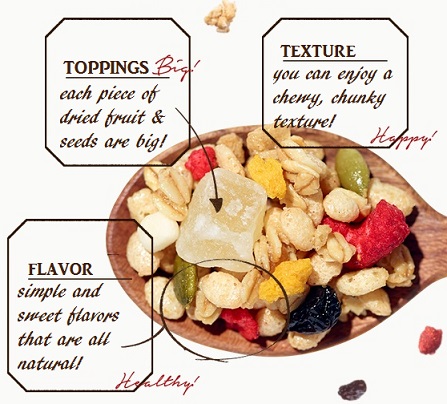 Why not make this popular and healthy granola a part of your daily breakfast? With breakfast being the most important meal of the day, it is best to spend your morning with something this good. Quick and easy to prepare, Gorotto Granola is perfect for anyone who has a busy morning routine. It's good for your health, and very filling, so anyone who is worried about their diet won't have to fret anymore! You can eat it simply with milk or yogurt, or even on its own! We have this granola avaliable at J-Subculture for purchase and up for auction. Just scroll down for products below and start your day right with Gorotto Granola!