Rise To The Year Of The Rooster!
Tue, Dec 27th 2016, 12:56:21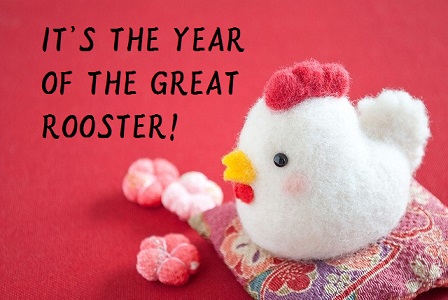 As you may know, the year 2017 is the year of the great rooster! The rooster refers to one of the animals belonging to the 12-year cycle of the Chinese Zodiac. We also follow this cycle here in Japan. The year of the rooster is called 酉年 (tori doshi) in Japanese.
With the year of the rooster comes fortuitous results and opportunities. It is the time of a well harvest! People born in the year of the rooster are often said to have sharp intuition, kind hearts, and clear social skills. To greet the year of 2017, we can consider changing our mindsets to become more positive, and take the time to adjust our lives to produce better results in varying fields, such as home life and work life. Every year as the zodiac animal changes, you can see many items that express good luck and well being throughout Japan with the year's animal design. Would you like to follow the ways of Japan and have yourself some rooster-themed goods?
We have a variety of items, from cute ones like pajamas and hats, to lucky charms and novelty items! If you're interested in having your own rooster item for 2017, scroll below for what we have to offer here at J-Subculture! Let's meet 2017 with an open mind and endless positivity!