寿司 Sushi is a kind of Japanese cuisine that is now eaten all over the world. Sushi is a combination of rice (sumeshi or shari) and generally fish (such as salmon and tuna). With the growing popularity of sushi, many variations of sushi have been produced. Sushi is usually prepared with raw fish, though nowadays there is sushi that comes with cooked fish or meats. Sushi is eaten with wasabi and pickled ginger, with a dip or swig of soy sauce. Do you love sushi? We certainly do. That's why we at J-Subculture would like to introduce you to some goods that will sate any sushi lover out there. In the mood for some sushi? Then check these out!
Enjoy a candle-lit night with these awesome sushi candles! Perfect novelty item for any lover of sushi. Why not try surprising your friends with this delicious-looking item?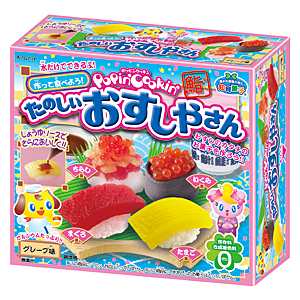 たのしいおすしやさん (tanoshii osushiyasan = fun sushi restaurant) is a kit that will allow you to make your own realistic sushi, in candy form! It's fun, yummy, and an experience you'll never forget. Good for both children and adults.
Everyone knows about Japan's eraser toy culture right? Here is a set of sushi shaped erasers! They look so good that it's mottainai to use them practically. Collect them all!
Little sushi cars? Yes please! Hold sushi races to see which sushi runs the fastest! Another novelty that will have any sushi lover wanting to race to a sushi bar.
Besides sushi erasers and sushi candles, we have many other sushi-themed items avaliable here at J-Subculture! What kind of items you ask? There are origami sushi sets, wooden toy sushi sets, mini sushi magnets, and so much more! Ready to enter a sushi lover's heaven? Just scroll down for products below!