Ready to enter a world of fruity gummies? Here are Kasugai Japanese Fruit Gummies! Gummy in Japanese is written as グミ (gumi). As you may know, Japan is big on snacks and candy, so the variety of gummies released to the market seem endless! However, one Japanese candy company called Kasugai produces delicious, fruity gummies that use 100% fruit juice. You can snack on these gummies all day, guilt free!
Why not add some of these gummies to your diet?
We'd like to show you some of the gummies that are super popular overseas. These gummies are from the グミ100 series that Kasugai has to offer. Each gummy candy comes in a juicy-looking package that really displays how each gummy contains 100% fruit juice. Pop these gummies into your mouth and you can taste fruity bursts! Besides muscat and grape, there are also other flavors like apple, watermelon, strawberry, and more!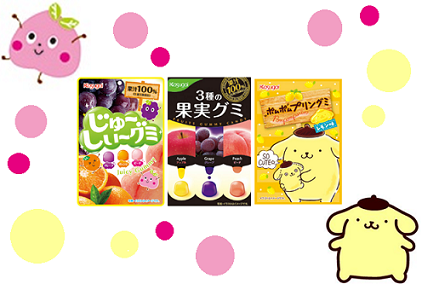 Here are other gummies that are sold in Japan! Starting from the far left, there's じゅ~しぃ~グミ (jyu-shi- gumi, juicy gummy). The flavors are orange, grape, and peach! Sometimes they have heart shaped and star shaped gummies. If you come across these, you're lucky! In the middle, there's 3種の果実グミ (sanshu no kajitsu gumi, three kinds of fruit gummies). Just as their name explains, these are apple flavored, grape flavored, and peach flavored! They taste just like the real fruit, which means you can enjoy them extravangantly and fully. Last but not least, a collab with the adorable Sanrio character, ポムポムプリングミ (pomu pomu purin gumi, Pom Pom Purin gummies). These lemon-flavored gummies come in the shape of cute Pom Pom Purin's head!
Besides these gummies, there are many more to try from Kasugai's fruit gummy selection. Scroll below to see what we have here at J-Subculture. These genuine, Japanese gummies are sure to blow your mind!