Here comes Wombat-san and his friends! What a curious bunch. What are these mysterious, delightful, and oh-so kawaii animals? We have Wombat-san, Platypus-san, Koala-san, Devil-san, Fairy Penguin-san, and Kiwi-san! As their names imply, they are a bunch of rare creatures (with the polite "-san" attached to the ends of their names). Are they just oozing with personality? Through their simple designs, they'll capture your heart! First, we'll introduce you to the leader of the bunch, Wombat-san.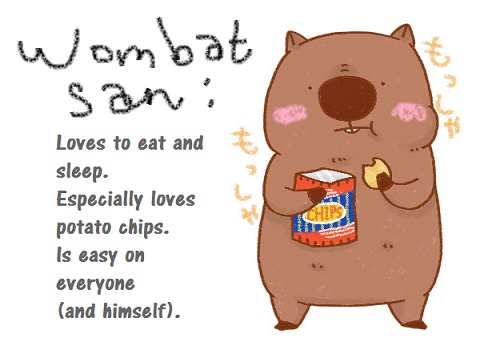 As explained above, Wombat-san is a chubby, adorable creature who loves to eat and sleep. He is especially fond of potato chips because of their oily goodness. Since he is easy on everyone and himself, he gets away with excessive eating and laziness. Talk about kawaii right?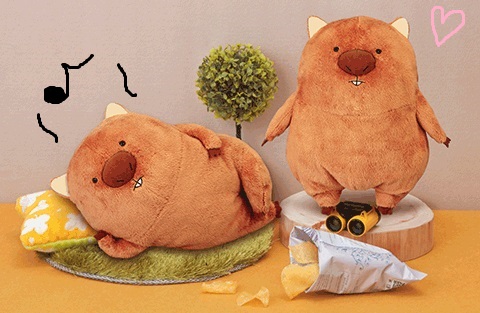 And of course, what better way to boost the cuteness than to make Wombat-san into plushies?! Here he is relaxing in a laying position and happily standing upright. But hey, don't let Wombat-san steal the spotlight. Besides Wombat-san, there are plushies and other goods of Platypus-san, Devil-san, and Koala-san! If you haven't had your daily dose of Vitamin Cute, here it is!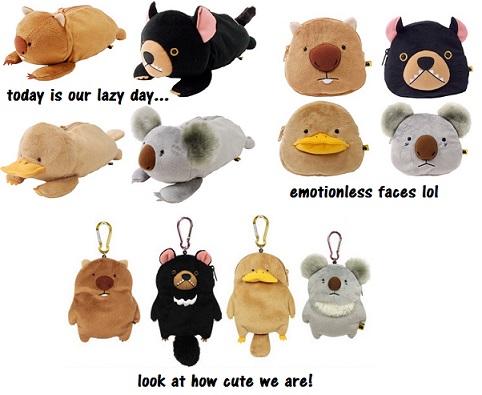 Here at J-Subculture, we have pen cases, card cases, pouches, and so much more from the beloved Wombat-san and friends series. If you're interested in these goods, just scroll below for items up for purchase and on auction. With varying personalities, you can enjoy colorful days with Wombat-san and his friends. Why not go for something different? Love your animal friends beyond the zoo and into the wild!