Lupin III ((ルパン三世) is a manga serie created and illustrated by the author Kazuhiko Kato (under the name of Monkey Punch) and published by the japanese magazine Weekly Manga Action for the first time in August of 1967.

The story follows the adventures of a thief gang who's lider is Arsène Lupin III, the grandson of Arsène Lupin, the famous thief created by the novelist Maurice Leblanc. Lupin III travels around the world with his friends trying to steal big treasures and at the same time running away from the police.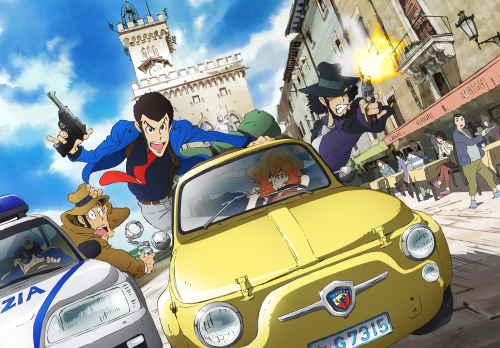 There are 12 manga volumes from Lupin III, 6 movies, 4 anime series, a musical, OVA's, 3 Soundtrack CDs and a bunch of video games!
After 40 years of the Lupin III's creation, the character remain popular around the world, and the good news are that this Autumn the 5th anime series will be air in Japan! But if you are italian you are actually the lucky one!! The new Lupin III anime will be premiered in Italy this month!! The story will take place in San Marino, Italy! All Lupin gang friends, Jigen, Goemon, Fujiko and the police detective Zenigata will be involved in the new italian adventures.
Here you have a sneak peek of what you will see soon in Italy, Japan and I'm hoping that in the rest of the globe too!! ٩(♡ε♡ )۶
You can find more information about the new Lupin III series on the official Tumblr page!