Gudetama
, the lazy egg who
doesn't want to do anything at all
, could be one of the strangest Japanese characters ever. This inactive egg is a character
designed by the Japanese company "Sanrio"
. This company is focused on the design, license and production of characters for the
kawaii
, or cute, segment of the Japanese popular culture.
You may know
Sanrio
for their
most famous design, Hello Kitty
, but not all Sanrio's characters are cute and cherry, in fact Gudetama is totally the opposite to Sanrio's usual character, may be kind of cute, but there is no doubt that
this lazy egg is one of the most unmotivated characters ever!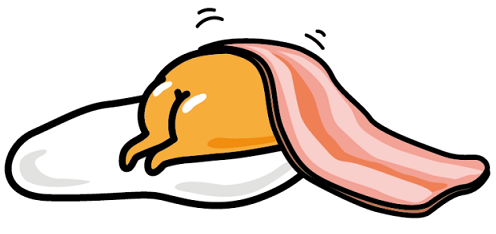 Gudetama's name is a combination of "gude", which is a Japanese onomatopoeia for describing something or someone with no energy, and "tama" from the word tamago, which means egg. (Ah~~~ah ... ) Is hard to be an egg, you have a flaccid body, no bones at all, people tends to boil you, if you think about it, Gudetama's demotivation is more than justified, but see for yourself!
Today we bring you a special selection of Gudetama's goods, although his enthusiasm for life is simply nonexistent, his weak body and voice will push you to love this lazy but adorable egg!