About Our Service
-Ever wanted to buy Japanese products directly from Japan, but didn't know how?
Well, we are here to help you!
We offer access to a huge selection of Japanese sub-culture products including anime, manga, DVDs, etc.
When you find what you want, add your favourite items to your cart.
Then, send your request to us and we will make a quotation for your request.
If you are satisfied, we buy the products directly from the shop here in Japan and ship them to you.
Yes, is that simple:-)

NOTE: Until you agree to the quotation for your request, you don't need to pay for any costs.
So, feel free to ask us about the price for the item you wish to purchase.

We use small packet or EMS for shipment and can send products worldwide.
While you can choose the method of shipment for the ordered products, we recommend shipping through EMS.
EMS is a faster international mail service, able to send up to 30kg of documents and other goods.
EMS also has a tracking service and better insurance system just in case the products get damaged / lost.

Currently we accept payment through PayPal along with most major credit and debit cards.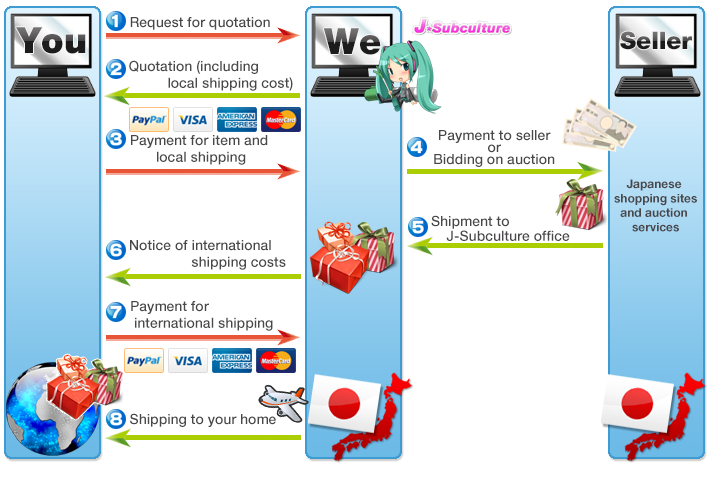 ---
We Can Help You
Since we are doing business here in Japan, we can buy items such as "region-exclusive" products, which are only sold in Japan locally.
Most of them are not "internationalised", which means they are all written in Japanese, but we're sure you'll love'em! :)

While we are doing our best to search for and introduce fine-quality Japanese sub-culture goods to you, we are not perfect.
If you can't find what you're looking for, please let us know and we will look for them!