PILOT
is one of the most important companies in the Japanese stationery industry and the
DR. GRIP
line his first weapon against the finger cramps. This classic and special pen features a unique balanced design, a cushioned grip, and a smooth ink formula that provides an extraordinary writing experience. One of the most known members of the DR. GRIP family is the
Pilot Dr. Grip 4+1
that we already introduced you, a complete writing tool that features 4 different color in a single comfortable and beautifully designed body.
Was 1995 when Pilot introduce the Pilot Dr. Grip family, a easy-to-use and well designed pen with the objective of finishing with the writing stress, some years after three more members were added to the family, the Pilot Dr. Grip Pure White, Full Black and Mechanical Pencil.
In the Dr. Grip Pure White the style meets comfort, you'll say goodbye to hand pain due to the cozy grip and still keeping the style with his unique design. Medium point and refillable, this also retractable pen is the perfect option if you used to spend a long time writing.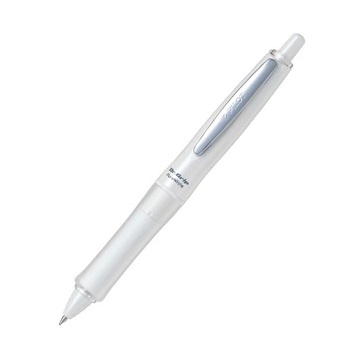 Just like the rest of the family, the Dr. Grip Full Black features a comfortable grip and a well balanced body design with a stunning and beautiful black color, the metal clip contrast with the sleek black design of this retractable and refillable pen that will be hard to put down.
Sometimes you need to be able to erase what your write and in this case is better to use a mechanical pen, if you want it to be as comfortable as handsome, there's no better option than the Pilot Dr. Grip JustMeet, a variation of the Pilot JustMeet, it features the same strong body made from the extra wood leftover from the production of baseball bats in a perfect combination with the unique grip of the Dr. Grip series.