In J-Subculture we love the stationery supplies, we already introduce you a bunch of our favourite ones like the Midori BRASS Products or the Pilot Frixion Erasable Ballpoint Pen. As you can see we love to bring you special and unique products you've never seen before, so today we introduce you the Tombow AirPress Pen. At first sight you may think that this is nothing but a standard and simple small pen, but this little guy comes with a bunch of cool and unique features.
The Tombow AirPress Pen is the perfect election if you need something small but functional, especially if you are a busy person that needs to write in any condition. We all know that is almost impossible to write with a pen if the surface you're using is not totally horizontal, well you'll be able to write during a few seconds and your pen will start failing due to the gravity.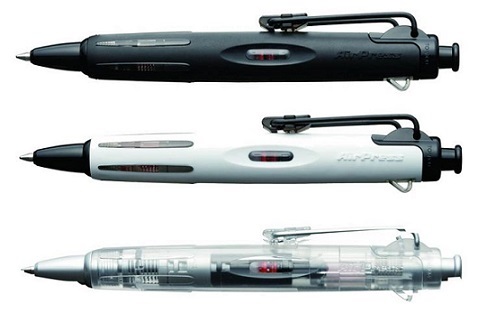 And this is exactly one of the coolest characteristics of the Tombow AirPress Pen, the capacity to write even when you are doing overhead, the Tombow AirPress Pen features a unique system that insert air into the ink cartridge, in this way the ink is not affected by the gravity and you'll be able to keep writing, one single click pressurizes the refill for 492 ft. of writing overhead. Due to this spectacular feature this extraordinary little pen allow you to write in dusty locations or on wet paper. In addition the Tombow AirPress Pen small size, all this magic fits in just 0,4 ft body, make this pen perfect for carrying around without taking up much space.
The small size of this Pen combines perfectly with a strong clip configured as a spring, this clip is capable to open in a wide angle so you can clip your Tombow AirPress Pen to a hardcover book if you want. The constant ink flow of the AirPress system and the rubberized grip makes the Tombow AirPress Pen the perfect pen, the only thing left to worry about is deciding which colour you like best!