In J-Subculture we are in love with the Japanese stationery, but we don't like any kind of product, we're constantly looking for new, useful and cool designs. And that's exactly what we found in the Lamy PICO! The word "PICO" comes from the Italian word "Piccolo" that means little and gives you a clue about the most important feature of this pen.

It's always helpful to carry a pen around, but the regular ones are to big to just keep them in our pocket, it's true that you always can buy one of those tiny pens, easy to keep, easy to loose and uncomfortable for sure. Heres were Lamy made a perfect design exercise and came with the PICO idea, compact but big enough size who gives you a comfortable handle, smooth writing experience and small cylindrical barrel that measures only 3.75 inches that, and here comes the magic, extend 5 inches becoming a telescopic pen!
Totally refillable with the Lamy M22 refill, Lamy bring us the PICO pen in 5 unique colors, with matt finish, the standard black and white for the classic ones, red for those who like the colorful stationery goods and the chrome for those in love with the design, the chrome color is available in pearl finish as well, shiny and beautiful.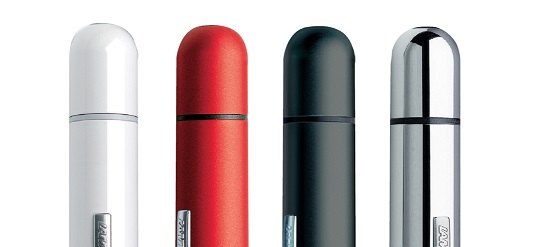 The Lamy PICO is definitively the perfect choice if you're looking for a well designed, compact, lasting and cool writing weapon to carry everywhere, take a look to our list and don't hesitate to buy this unique pen!