Keroro, the sergeant of a group of frog-like alien invaders, is to lazy, he prefers to spend time surfing the internet, reading manga or making Gundam models rather than accomplish his mission of coming up with a proper plan to conquer the world. In addition to Keroro's laziness, the Hinata Family, the group of humans with whom he lives, is what most stands in the way of Keroro's troop mission distracting them with their ridiculous demands.

This is the plot of "Keroro Gunso" a hilarious manga series serialized into a TV anime series, full of cute characters, funny jokes and a multitude of references to the Japanese pop culture like Gundam, Dragon Ball, Neon Genesis Evangelion and many others. Despite both, the anime and manga series, are full of references to other series, they're not directly mentioned due to copyright issues, Keroro just recreate some of the most famous scenes of those animes. This is not so for the references, much more precise, to Gundam since Bandai owns the rights of the series.
If you are a fan of anime and manga we are pretty sure that you are going to love Keroro's references, characters and jokes, in addition today we want to introduce you Bandai's Keroro Gunso Figure Collection, a series of Keroro's figures performing Keroro's troop characters and robots!
Meet the Giroro Robo Mark II with his machine gun arms and rocket launchers you are ready to conquer the world after reading your favorite manga!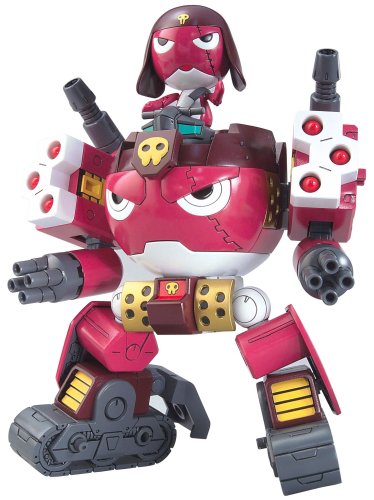 Not all is about invading the earth, there is also time to have fun! With the Afro Sergeant Keroro you will be ready for the Saturday night fever!
The Keroro Gunso Collection robots usually have two positions, in the case of the Pirate King Keroro Robot an unbeatable pirate racing car!
If you want to conquer the world you're going to need your complete frog-like alien troop! In the Musha Keroro Platoon Set your troop is ready and equipped with a colorful traditional Japanese armors!
It is clear that Keroro is part and a big fan of the Gundam family, in the Keroro Gunso Collection the experience of assembling your own personal Gundam mix with the crazy, colorful and funny Keroro's designs, check the complete J-Subculture's Keroro Gunso Collection and let the invasion start!