Revoltech is probably one of our favorite figure lines. From the Japanese figure and garage kits manufacturer Kaiyodo, the principal characteristic and what makes this figure line unique is Kaiyodo's special joint system, the "revolver joint". All Revoltech figures features this unusual system which gives them a wide range of motion as well as dynamic and varied poses without loosing their stability.
All this stability, motion and varied poses looks even greater when you combine them with a proper design and being honest nothing could look better than a Star Wars Revoltech figure! In this unique Star Wars figure line, Darth Vader, Stormtrooper, R2-D2, Boba Fett, C-3PO and the X-Wing figures features Kaydo's "revolver joint system" making them a rare and stunning Star Wars collection!
Join the empire and defeat the rebel scum with the Star Wars Revoltech Stormtrooper, this spectacular figure full of details features all kind of positions through revoltech system and his exchangeable hands.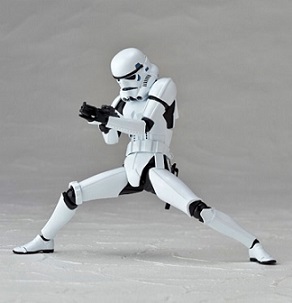 Although R2-D2 and C-3P0 are not the most flexible Star Wars characters, Kaydo's version of the funniest Star Wars robots is simply perfect. R2-D2 features a special system how allows the figure to move, just attach the pull-back piece and watch him go, Wheee! C-3PO's full of details body is detachable, in addition to a wide of C-3PO positions, you'll be able to pull him apart and strap him to Chewie's back like in the movie.
Darth Vader is one of the most iconic characters of Star Wars and the Rovoltech system gives this figure all the motion and dynamic poses he deserves, featuring an articulated coat, a light saver and exchangeable hands you'll realize that the force is strong in this one!
One of the most known bounty hunters of the galaxy, Boba Fett looks grate in this Star Wars Revoltech figure. This is probably one of the most expressive figure of the line, just amazing.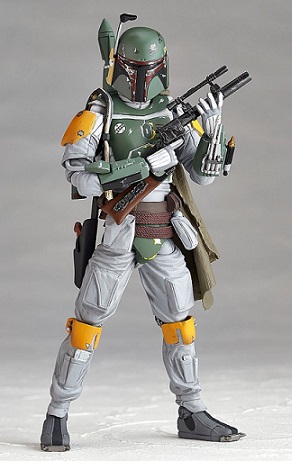 Our last figure is the spacecraft who took down the death star, the Star Wars Revoltech X-Wing. This spectacular spacecraft full of details comes with a Luke Skywalker and R2-D2 mini figures!
Check out our list, make the collection and may the force be with you!