Takara Tomy is a well known Japanese Toy manufacturer created from the merge of Takara and Tomy. This company´s toys are easy to find in Japan´s toy shops, some of the best known franchises and hit products like Microman, Battle Beasts, Beyblade, B-Daman or Transformers are from Takara Tomy.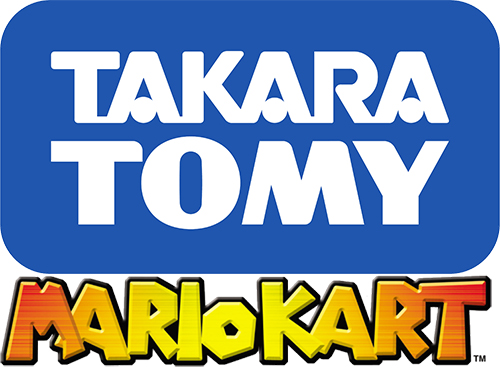 Few months ago we introduce you to the Super Mario Board Games, a beautiful way to enjoy and bring your favorite characters to real life. In fact Mario and Mushroom Kingdom residents are something more than a simple characters, they are an essential part of the gaming and pop culture, not just in Japan but all over the world! Now imagine that in addition to those amazing board games where your favorite characters turns to live, you have the chance to play one of the best and most exiting Mario game in real life! We are talking about Mario Kart!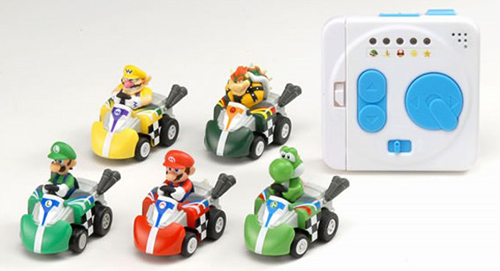 YES! Now thanks to Takara Tomy in J-Subculture we bring you the chance to take to the real life which we are pretty sure that is probably one of your favorite video games. This is not just a simple Mario Kart board game, this is a full detailed real life version of Mario Kart. In the Takara Tomy Choro Q Mario Kart Racing Game you control a RC version of Mario Kart´s characters, there are 6 of them, Mario, Bowser, Yoshi, Donkey kong, Peach and Toad.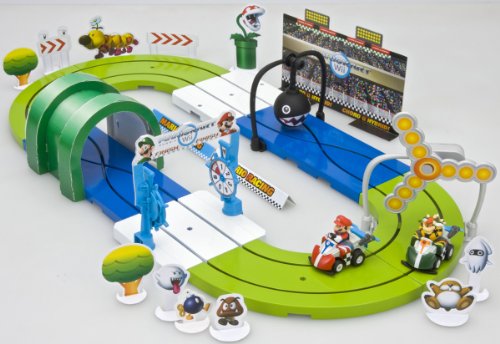 You can use power-ups just like in the real game! Speed Bost, Koopa Shells, Bananas, Mushrooms and Stars, you can use them from your RC controller and they will affect in one way or another to your or your opponent Kart speed. You can race on any surface but the real fun came when you use your RC Mario Kart in the Takara Tomy Choro Q Mario Cart Circuits! Like in the game this circuits are full of details, and they are in fact a real life version of the digital ones!
Take a look to our list and don´t hesitate to purchase this outstanding real life version of your favorite video game, a great game not just for kids but for the whole family! Enjoy Mario Kart´s fun in a different way with Takara Tomy and J-Subculture!