Today we at J-Subculture would like to introduce to you a line of artsy products called Sakura Cray-pas! Sakura Cray-pas are these beautifully crafted art supplies made in Japan since 1925. They are produced by SAKURA COLOR PRODUCTS CORP and are its standard products. They're the best combination of crayons and pastels; an innovated design of oil pastels! During the Taisho period of Japan, there weren't many art supplies avaliable. The utensils used normally were water colors and pencils. Due to the hardness of the paper and lack of colors, many people weren't able to create the art works they wanted to. That's when the design of these Cray-pas sparked and came to life!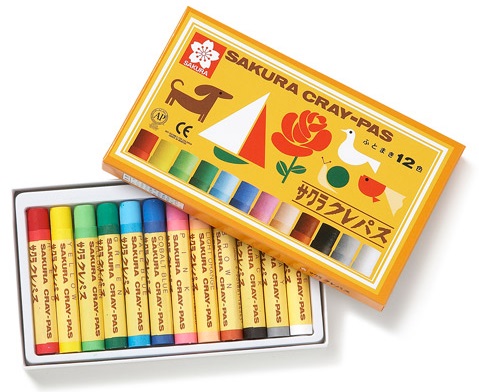 There are four points to Sakura Cray-pas that make them so special. First of all, they're soft, which means you can draw pictures smoothly on wide surfaces. If you use your fingers to rub the drawings you've made with the cray-pas, you can graduate the colors you're using. Second of all, their color blends are beautiful. You can easily blend the colors of the cray-pas together on your drawings, without messing up the originals. Third of all, you can use the cray-pas colors atop each other with each color standing out. These are useful for a "scratching" effect made through some art techniques. Last but not least, by using cray-pas, you can make your drawings look like oil paintings, since they're thick and can layer over and over again on the same paper.
Sakura Cray-pas come in sets of 12 colors in order: red, yellow, yellow green, pale blue, cobalt blue, pink, light orange, brown, black, gray, and white. There is also a set of 24 colors, as well as Sakura Crayons and other art supplies! Our favorite is the cray-pas, but the other Sakura products are also worth mentioning. Sakura Crayons have a soft design that make them easy to use. You can draw strong, sharp lines with them without applying much pressure onto paper surfaces, which makes them ideal for children. They're hard to break, and produce vivid colors.
Sakura Cray-pas and Sakura Crayons are pretty art supplies you can use to bring out the colorful artist in you. We highly recommend them for people of all ages!