崖の上のポニョ (gake no ue no ponyo), or "Ponyo on the Cliff by the Sea," is an animated film produced in 2008 through Studio Ghibli; directed and written by Miyazaki Hayao. It played in theaters where I was, and I went to see it on my birthday. I was super excited to watch a Studio Ghibli film on the big screen. I'm very fond of the film, and even have a copy of the DVD at home. The story of Ponyo warms people's hearts, and brings people closer together. The colors used in the film are vivid and vibrant, while the storyline is absolutely sweet. It's certainly a tear-jerker. I'd recommend it to anyone who loves the works of Studio Ghibli. It's ranked the fourth best film out of all their films, and Ponyo is the second most popular character of them all. If you aren't familiar with Ponyo, here's a link to its English movie trailer: www.youtube.com/embed/bskgNOXbdiE
Ponyo is a story about an adorable, red goldfish who longs to become a human girl after befriending a human boy named Sosuke. She's a fish-girl named Brunhilde, but grows attached to the name, "Ponyo" after Sosuke gave her that nickname. Sosuke rescued Ponyo in her "fishy" form as he found her stuck in a glass jar washed up on the shore. He discovers that Ponyo actually has magical powers, and grows close to Ponyo, carrying her in a bucket of water and caring for her.
Ponyo longs to become a human like her friend Sosuke, so she uses her powers to transform into a pretty, young girl! However, the use of her powers cause great imbalance in the world and defies the laws of nature, so things start to grow chaotic for both Ponyo and Sosuke. The two go on an adventure of a lifetime to help save their worlds while fufilling Ponyo's great wish to become a human girl.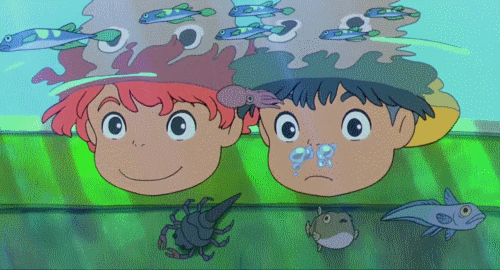 Watching Ponyo, I get in touch with all these fuzzy feelings, and one thing pops up for sure: Ponyo! She's soooo kawaii! And her passion to become human and natural charm are bound to capture your heart. Follow Ponyo and Sosuke on their adventure through the film Ponyo. And if you're in love already, at J-Subculture we have many Ponyo goods just for you, as well as other Ghibli goods. Get in touch with your inner "kawaii" today!