Tired from all the work you have to do? Want something to help you forget about all your troubles? When you're chained to a desk all day, you sometimes get caught up in all sorts of stressful work. That's when you take a quick look at your endearing Sunshine Buddy and immediately a smile spreads across your face...
What is that adorable pink figure right there? That's a Sunshine Buddy, or のほほん族 (Nohohon Zoku) in Japanese. It's an eco-friendly toy that was created by the Japanese toy company Tomy in 2002. "Nohohon Zoku" means "carefree family." Each Sunshine Buddy's purpose is to relieve stress. People usually keep one on their desk at work, or have them around the house as decorations. Most of them rely on solar energy, with small solar panels inserted to their seats. They bob their heads and sway them from side to side when exposed to light. With their carefree, gentle looks, people feel happy right away.
Just look at that happy face! Don't you feel better already? I sure do.
Sunshine Buddies come in pastel colors and a variety of designs. The recently popular designs would be the 花 (hana) designs, which feature the Sunshine Buddies sitting atop pots of soil and having a ring of pretty petals on their faces. It's as if these Sunshine Buddies soak up the light in the room and beam it towards you, sending cheerful energy into your direction.
There are many kinds of Sunshine Buddies. They're sold all over the world, but most rare ones are avaliable only in Japan. One Sunshine Buddy you don't see often would be the snowflake one:
With its soft colors and beautiful snowflake get-up, this Sunshine Buddy has come to be a favorite of many.
There are also Sunshine Buddies you can stick onto surfaces like glass. They differ from your ordinary Sunshine Buddy. They come in the shape of てるてる坊主 (teruterubozu), which are little dolls the Japanese hang up in hopes of attracting good weather and warding off rain.
Imagine having one of these Sunshine Buddies sticking on your window, greeting you as you check the weather. You'll be in a good mood all day long!
Nowadays, Sunshine Buddies are produced by Takara Tomy, and they've come up with special designs of Sunshine Buddies of your favorite characters! We've listed some examples below, like this cute Rilakkuma Pancake Buddy: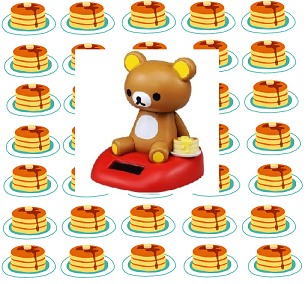 You can put him on your kitchen counter and enjoy eating pancakes together in the morning!
Here's a Sweet Strawberry Hello Kitty one! She's perfect for any room with a pink, girly theme. How cute this buddy is!
This is an ultra rare Kewpie Doll Sunshine Buddy! Look at Kewpie's angelic smile. You'll want to smile back with this buddy by your side!
We have a wide variety of Nohohon Zoku, or Sunshine Buddies, here at J-Subculture! Instead of spending money on a one-time thing like beer, why not unwind with your own personal buddy? Their charming smiles will certain alleviate your troubles away...