Pretty soon it's going to be Easter. Do you celebrate this holiday? Not many in Japan celebrate it traditionally, but do enjoy the festivities. There are already many stores in Japan that are covered in Easter decorations. On Easter, many people around the world decorate boiled Easter eggs, preparing them for Easter egg hunts. Other people purchase eggs, such as plastic eggs you can put candy inside, and edible eggs made from chocolate and sugar. Instead of settling for your regular batch of Easter eggs, why not settle for something a little more fun for your basket?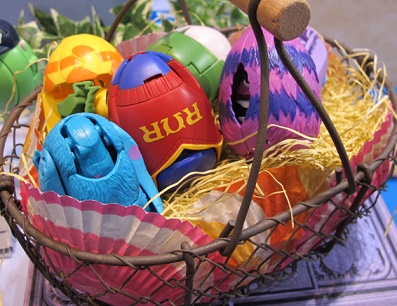 Introducing Bandai's Egg Stars! These colorful toys take the shape of actual eggs and transform into your favorite characters! There are many Egg Stars out there, from Disney and Pixar characters to Star Wars! Take a look at this Baymax Egg Star to see how they work:
Isn't that amazing? They come in compact sizes and change into action figures! Egg Stars make delightful gifts as well, so if you're considering getting some Easter goodies, these Egg Stars would be an "eggcellent" choice!
You can start your own collection of Egg Stars as well! Why settle for one when you can get the whole gang? Pretty soon you'll have enough to fill up one carton of eggs. These amusing toys can change wherever you are. All you've got to do is unfold the eggs and voila! You've got yourself toys that no longer resemble eggs!
Switch up your Easter holiday with Egg Stars, avaliable here at J-Subculture!