We already introduced you a bunch of cool and amazing products from Tombow like the Ippo product line and their AirPress Pens. Today we want to introduce you a new but well known product from this high quality Japanese stationery manufacturer, Tombow´s Mono One Eraser.


This new version from Japan´s super popular and number one eraser, Tombow Mono Eraser, comes now in a refillable pen form! Now you´ll be able to use your Tombow Mono eraser with more precision and simply way. You just need to twist your Tombow Mono One to draw your eraser, easy, clean and simple!
Tombow Mono One erases perfectly without collecting any dirt, and its plastic bump will prevent your Tombow Mono One to roll away from you. Thanks to the high quality of its materials you´ll need to brush off just a few eraser crumbs, making it the perfect 'On the Go' eraser.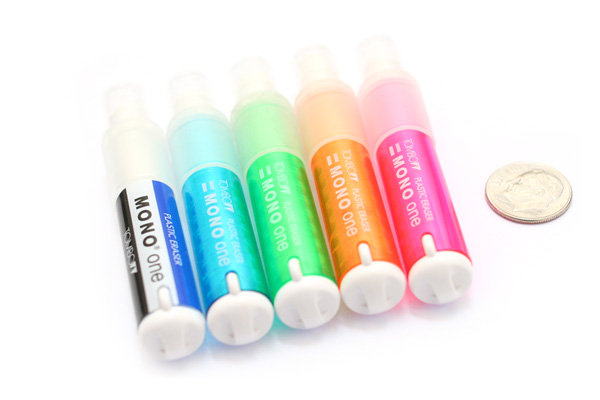 It comes in a extremely convenient compact form and is available in 5 different body colors, the standard Tombow Mono Eraser design, and light Orange, Blue, Green and Pink colors. Small size, but designed to last, beautiful and functional at the same time, J-Subculture´s favorite eraser!