Pilot Corporation is a Japanese pen manufacturer based in Tokyo, Japan. It´s very well known nowadays, not just for the quality of its designs but for the amazing colors and beautifully built pens. In 1915, Ryosuke Namiki, a professor in Japan, left his job to found a small factory near Tokyo to produce gold pen nibs. Later, in 1916, Namiki expanded his product line and became a full-fledged manufacturer of writing instruments… that was the moment that Pilot Pen Corporation was born.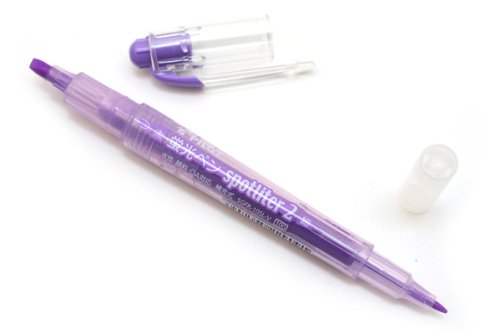 Pilot has so many types and models of pens, but we are introducing a very special one today, the Pilot Spotliter highlighter. There exists even The Pilot Spotliter Dual, which offers 2 colours in one highlighter. With a chisel tip at both ends and bright, fluorescent colours it is great for highlighting and underlining.
A step up from the original Spotlighter, this twin highlighter has the same clean strokes but in two sizes! Combo highlighter features a broad tip on one end and a thinner tip on the other. It comes in 10 beautiful, subtle colors. And, you can help minimize waste by re-using the same highlighter, because the ink is refillable, and it´s very eye-popping!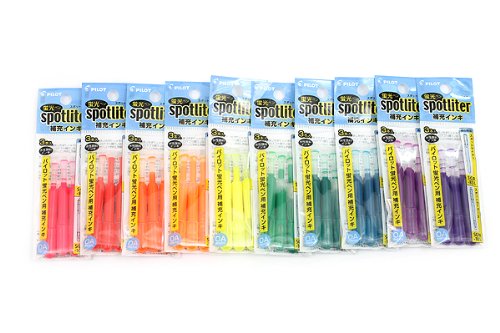 With a growing demand for writing instrument that could be used to draw attention to written or printed text, ink developers turned to a water-soluble fluorophore called pyranine. From marking memorable passages in a book to identifying important information on a shipping label, the everyday applications for multi-colored highlighters are unlimited! Being fluorescent, highlighter ink glows under black light! You will find many fabulous colors such as yellow, purple, violet, pink, orange, blue, green, emerald green, cream yellow, and also packs of three! Emphasize, organize and color your information in the most funny way!