This is for sure one of the most incredible, amazing and magical gadget you have ever seen! Takara Tomy Arts presents the Oekaki Night Sky Pen and Light Painting App for the iPhone and iPad! Oekaki by Takara Tomy is a light-painting art pen that works both with iPhone or iPad to create fantastic colorful shapes, customizing your photos.
This little penlight gadget named Oekaki, whose name is some kind of translation to "the night sky" is capable of "drawing" straight lines, dotted lines and presenting colors in gradation. You can also turn photos into flip-book-style videos with a bright point source of light. For best results, try it at night!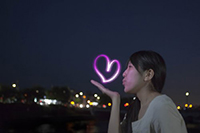 You only have to literally draw whatever you want! Each penlight gives you up to 27 colors. The device itself is available in two colors: blue, and orange. It also includes stand to keep your phone upright while you take a photo. It just requires and iPhone app, which is free, and an iPhone or an iPad.
It´s shockingly easy to create light paintings and once you control the perfect technique, you will be able to create pretty awesome images, which involves the capture of a moving light source, using long-exposure photography. It works pretty well and the results are simply touching and incredible!