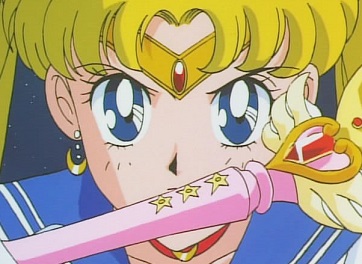 Ever wondered how you could transform into a pretty guardian like Usagi Tsukino? Like they say, when there's a will, there's a way! We'll give you a hint--check out her bright, beautiful eyes. You've guessed it, it's all in the eyeliner! We'd like to introduce you to a special product line of Sailor Moon that will help you achieve the look of a pretty guardian. Introducing Sailor Moon's Miracle Romance Liquid Eyeliner!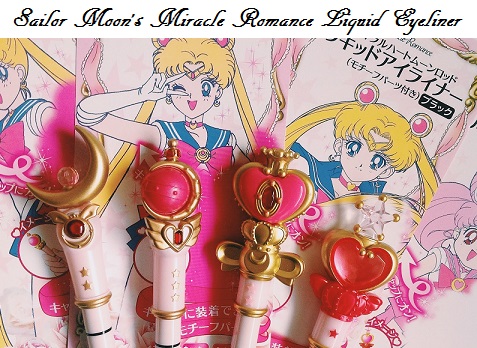 If you're a huge fan of the Sailor Moon series like the rest of us here at J-Subculture, then you must know about the spectacular rods and sticks that Sailor Moon uses. Are you familiar with the Moon Stick or Spiral Heart Rod? How about the Cutie Moon Rod, or the Pink Moon Stick that Chibi Usa uses? Well, the Miracle Romance Liquid Eyeliners have the same design as these out of this world items! They are disguised as pens when they are actually makeup tools, and they have just as much cuteness as the actual items used in the Sailor Moon anime! Super kawaii right? You'll want to use these eyeliners all the time once you've got them. They make such pretty accessories!
These liquid eyeliners, as well as the other liquid eyeliners from the Miracle Romance line, boast of high quality that has been approved by makeup professionals. The liquid used is thick enough to surround your eyes deeply, but at the same time, offer a comforable feel you normally don't get with other liquid eyeliners. They're super easy to use, work well with even sensitive skin types, and contain five components that help keep your skin from drying up like it may do with regular beauty products. Now you can look like the pretty guardian you've always dreamed of becoming, thanks to these liquid eyeliners!
Just scroll down below for the lovely array of Miracle Romance Eyeliners we have in stock and up for auction right here, at J-Subculture! Release your inner pretty warrior!