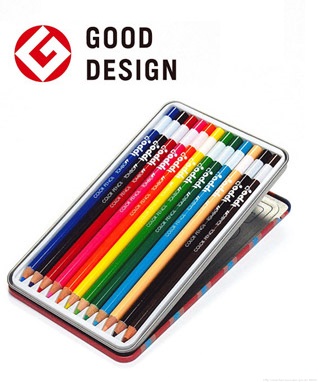 Japan is a country that is famous for its innovative designs. Designers go out of their way to take careful consideration in the products they design so that way users can feel fully satisfied. In 2010, one product in particular won the Good Design Award pictured above. It's Ippo! Tombow's Sliding Can Colored Pencils! This series features two sets of 12 and 24 colored pencils. What makes these sets amazing? Let us elaborate.
These specific sets of colored pencils were created to cater to the needs of any child who loves coloring. With your standard colors of the rainbow to special edition colors like gold and silver, any child that has love for art will cherish these colored pencils forever. It isn't just the pretty colors that make this product so great. What must be the strongest point of this product is its can. Usually with normal colored pencil sets, one has to deal with random colored pencils falling out of the case upon opening it, as well as other pesky problems. Sometimes the lid is too difficult to open, and sometimes it's hard to organize all the colors together. How can we make these sets easier for anyone to use? That's when the designers at Ippo! Tombow thought of the brilliant idea to change the style of the case.
These cans have a sliding lid that makes it super easy to open them! Just slide the lid upwards with your fingers. Despite being made out of tough material, it holds all the colored pencils in place when opening up with ease. Also, you can put the lid under the can when using the colored pencils, which means that it won't take up space on your desk! This idea is fantastic because desks, especially at elementary schools, are too small to have many stationery items at once together.
Each colored pencil gleams brightly to encourage children to draw to their hearts' delight. The name of the color of each pencil is printed neatly on them, and the wide white space offers room to write your own name on colored pencils. In both set series of 12 and 24 colors, there are six designs of cans avaliable to choose from. If you're interested in getting high quality products for your child, or getting ready for back to school in fall, then these sets are highly recommended! Just scroll below to see what we have for you here at J-Subculture!