For products, scroll down to the bottom ↓
In this modern age and many paperless offices, one would almost forget about this nobility of stationery tools, the PAPER KNIFE or LETTER OPENER as some may call it, too, but they do still have their validity and areas of use. How did you open the last letter you received again? Please don't tell us with a car key or the kitchen knife…oh gosh, please don't!
Don't have paper knives and letter openers something classy to them? Just listen to that sound of opening an envelope…zzztt…one slice gives a smooth opening and access to the sought content (well, let's just don't think about any outrages phone bills or reoccurring payment reminders of overdue expenses, which we'd rather trash right upon arrival). Traditionally, and given by their names, there was a subtle difference in how the tools were put to use, but the products we list below, can easily be utilized for both those tasks and more. Be it opening of envelops, separating papers or other delicate things that need a precise slice of a fine blade. Well here we go for paper knives; traditional, pocket type ones, futuristic and stylish models - we have them all out for you! Choose from well-known brands like MIDORI, KOKUYO, KURETAKE, 3M SCOTCH, OTHO, and PLUS!
So what do we have in store for you first? Well, you might take it more for something like a display item perhaps, but it is more than a cool looking samurai sword stand. Remove the scabbard to reveal a tiny blade to cut off that envelop neck!
Next up, an uncommon shape for a paper knife, more like futuristic design with the model from 3M Scotch. But check out what you can do with it! Want a particular article out of a newspaper before putting it to the piles or want to pass on a recipe without handing out the whole magazine to your friends – this paper cutter makes it a child's play!
The Otho company offers a tiny version that you can stow into your pockets after use and what is more it comes with a super sharp ceramic blade. This means no matter how much you are going to cut, the knife will maintain its sharpness throughout. Just don't let it drop, ceramic is a bit fragile in this regard.
The knife from Midori is similar in size like the above model, but the principle works a bit different as may be seen from the images with the knife penetrating from the side that is then pulled along the edge of the envelop. It comes with a little keychain, so you can easily attach it to a bunch of keys or attach it to you pants.
For both of the above handy paper knives, the safety aspect enjoys great emphasis because the blades are not directly exposed, just in case you have them openly laying around in your home office while children sneak in for a play with your utensils.
Aren't paper knives and letter openers cool?! We hope with the above list to give you a bit a different angle of it, should you have thought of them as obsolete for your desk. Should you not consider them for yourself, they make a practical gift for someone else, too. In case of any questions or search for a particular type/brand, please get in touch with our team staff at all times.
Decorative and practical alike - the BIRDIE paper knives also available at our shop.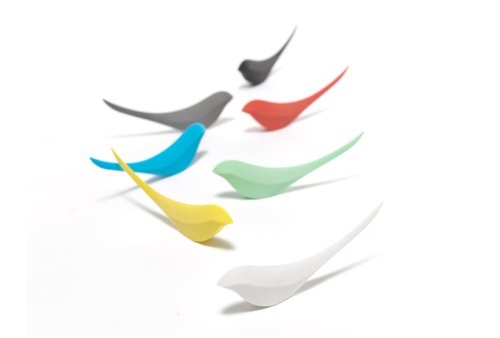 Please take your time to browse our various offers. Should you search for a particular item that is not listed below or otherwise not detectable in our storefront, please don't hesitate to contact our team, we will be happy to assist with any query and to search for specific items. Also PRE-ORDERS are possible in most cases. In the event that you would spot any errors for products, offers or other areas on our page, please inform us about it, so we may improve our services to provide a better shopping experience for the future. For the actual products, please be aware that they could differ from the images displayed here. With all that said, please enjoy your tour in our shop!