Calling out to all stationery lovers on the go! Have you ever had the problem of not being able to keep all your stationeries in place? Perhaps you already have your own favorite pencil case, and you may think that it's enough. However, when you've got to use that one special pen and it doesn't come out of your case immediately, do you find yourself in front of a mess of stationeries? How about wanting to take your notebook with you in the same case but being stopped every time because of a lack of space?
If you've answered yes, then we at J-Subculture have good news for you. We'd like to introduce you to a series of compact stationery bags that allow you to freely keep your things together all in one bag! They are carefully crafted by durable, long lasting materials and created by the Japanese company LIHITLAB. Why settle for any ordinary bag when you can show off your slick new bags like these?
There are four sizes we have to offer at J-Subculture: A6, A5, B5, and A4. They also come in basic and fashionable colors: Orange, Black, Beige, Navy Blue, and Olive. They're often called, "bag in bags" because they're "bags" that fit snugly in your personal bag, so you can carry them on the go without any hassle or mess. Besides pens and pencils, other designs also allow you to carry your cell phone, cords, and other devices with you! How can it get any more convenient than this?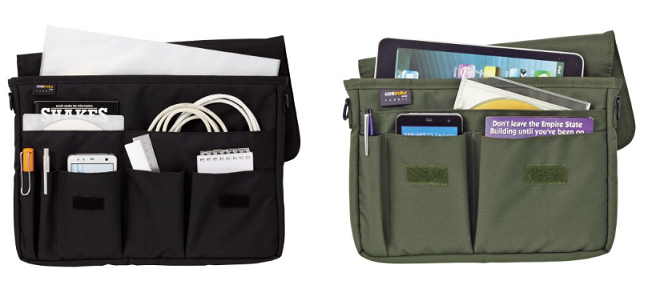 Besides the products we have in stock, there are other LIHITLAB products up on auction, like the cases they produce solely for stationeries, such as the pencil case pictured below. Imagine being able to carry all of your favorite pens and color pencils with you on the go! They fit multiple stationery without being bulgy or awkward. They make the great gift for any student and business person out there!
These smart, compact, and convenient pouches will instantly change your life. You can be a more organized person, which will let you be more active and be able to use your extra energy on other things. Looking for stationery that is scattered in your bag, or having to carry a hevay amount with you 24/7 can be tiring to the mind and body. Lead a smart lifestyle with these extraordinary pouches and never waste time again!