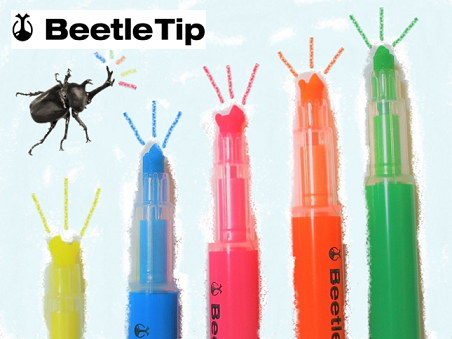 You've never seen anything quite like it! Introducing Kokuyo Beetle Tip, three way highlighters! These wicked markers will totally blow your mind with their quirky, creative designs. Ready to add some new highlighters to your stationery collection? First, check out what makes these highlighters so unique and popular.
Each Beetle Tip Highlighter comes with the option to highlight through three ways. With the tip being designed after the head of the Japanese beloved Kabuto mushi (=beetle), you can use this highlighter for bold highlighting, sharp highlighting, and double highlighting! "Bold highlighting" is good for making annotations in your books and making sentences pop. Sharp highlighting is thin, which allows you to freely make lines between long paragraphs. Finally, through using both sides of the tip, you can highlight in double, which cuts time and lessens mistakes. No more sloppy highlighting. It's efficiency you can't get from any other stationery.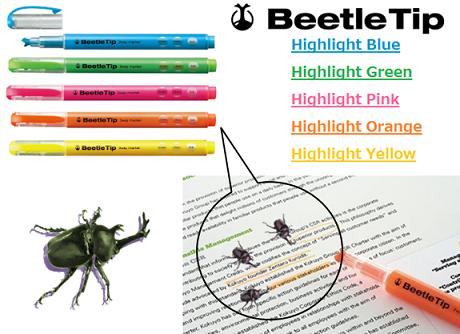 There are a total of five colors to choose from: blue, green, pink, orange, and yellow. While being highlighters, they are still on the mild side, and never bleed through the pages. They're light, portable, and convenient highlighters. You won't have to bring many supplies with you anymore. Just rely on Kokuyo Beetle Tip! We have these colors here at J-Subculture singularly and as a pack, so if you're interested in having these cool highlighters, scroll below! Why settle for one way when you can go for three?