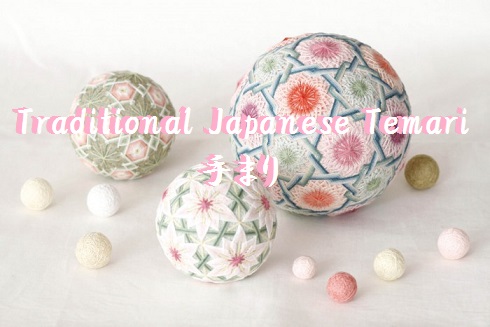 What is "Temari"?
Temari (手まり) refers to a tradional Japanese craft that was originally a toy in ancient Japan. It is a beautifully crafted ball that is somewhat larger than the size of a softball, but somewhat smaller than that of a handball. It was often played with during the New Year in Edo period.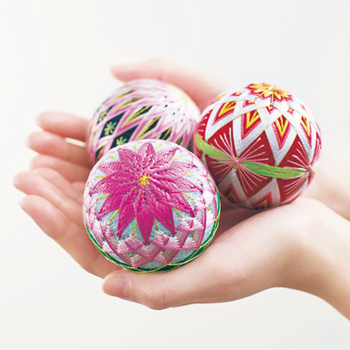 Originally, Temari were made by mothers and given to their children to wish for their happiness. Temari would be used for playing, such as tossing, kicking, and bouncing. Temari were crafted together through the use of fabric pieces, such as those of worn kimonos. They were often sewn together in intricate designs with silk by those belonging to the upper class. Inside the Temari, mothers would place a slip of paper that signified a wish they had for their child's happiness. Later on, people would include rice grains and such inside the balls so that they'd make noise when played with.
Now, making Temari is considered an art in Japan. The designs of Temari can vary, from flowers to cranes and even stars. You could say that they look like the inside of a kaleidoscope. The sizes vary as well, depending on who makes them. Crafting together a Temari takes practice and time. By making a Temari, you can come to appreciate the silent, beautiful patterns of Japanese history and culture.
At J-Subculture, we have kits of Temari avaliable just for you! You can make your very own Temari through these embroidery kits. As you make your Temari for your special child or friend, you can wish for their happiness. It makes for a unique Japanese present. If you're interested in making your very own Temari, simply scroll down for kits below! Who knew that simple spools of thread could transform into masterpieces?