Your favorite pretty guardians, in chibi form! Introducing chibi Sailor Moon dolls!
These super kawaii dolls come in chibi forms that fit in the palms of your hands. You won't be able to handle all this cuteness when you see how adorable they are.
We've got your pretty guardians with huge, anime eyes and colorful sailor uniforms. Each lovely girl has a sweet smile on her face, but never underestimate her great power! We have all your original favorites, from Sailor Moon Usagi herself, Sailor Mercury, Sailor Venus, Sailor Jupiter, and Sailor Mars! Check out this girly crew as they fight to save the world. Besides these chibi Sailor Moon dolls, we have the Sailor Neptune x Sailor Uranus pair, Sailor Pluto, and even Tuxedo Mask.
And of course, what collection would be complete without Sailor Moon and Chibiusa, in both of their forms? We've got all these cuties, perfect for all you Sailor Moon fans out there! With such mini sizes, you can keep them as kawaii decorations and show them off to your other Sailor Moon friends, and also carry them with you in your bag as you go!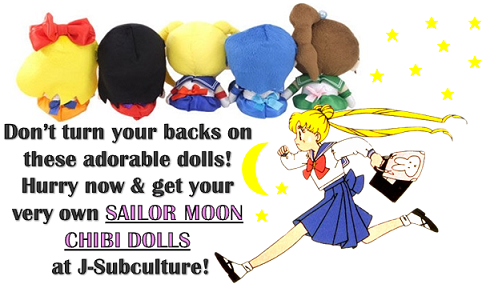 Scroll below for the chibi-sized Sailor Moon dolls available here, at J-Subculture today!