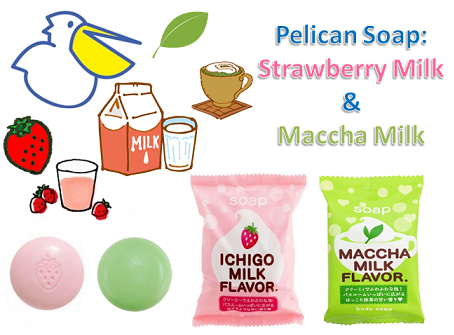 Before, we've introduced you to a Japanese company called Pelican that produces a variety of natural, deep cleansing bars of soap. (if you're curious about that article, please click the following link:
www.j-subculture.com/guides/sub/337
) Now at J-Subculture, we're back with another great item belonging to the Pelican line.
It's Pelican Soap's

Maccha Milk

and

Strawberry Milk

Soaps!
These milky bars of soap will remind you of their dessert counterparts with their pastel colors and sweet scents!
These bars of circular soap have especially grown in popularity over the years, since their size and texture prove to be perfect for soap carving. Many people have used these soaps not only for a great bath time, but also for carving beautiful soap art! These soaps offer catharthic relief unlike any other brand. Talk about a two in one bargain right? And check out that adorable strawberry mark on the soap! It definitely represents Japan's kawaii culture.
So, are you a strawberry milk fan, or a maccha milk fan?
The Strawberry Milk Flavor Soap
contains actual essences of strawberries, giving it a juicy scent. After washing your body with the sweet lather of this soap, your body will thank you, as it will feel super soft! On the other hand,
the Maccha Milk Flavor Soap
contains the essences of real tea leaves, making your body relaxed and wrapping you in a refreshing scent. Both soaps contain milk substances that smoothen the skin. Your skin will be left moisturized and sweet! These soaps come in compact sizes and last a long time. Ready to have a lovely bath time? Scroll below for the soaps here at J-Subculture! (*Please note that these soaps are non-edible.)