Japan is the paradise for those who like snacks, chocolate and other "not so healthy" products but actually those are the ones we CAN'T live without. We must indulge ourselves from time to time even the doctors recomend it!! (。・//ε//・。)

Japan is also the paradise of flavours, from seasonal flavour drinks, special edition kitkat and weird and not so weird flavored snacks. And that's what I want to talk you about this week, the cute packaging and delicious snacks that Calbee brand sell around the country. Calbee is a famous brand for selling Jagabee, a french potato style snack that will steal your heart from the moment you eat one!! In this case I want to show you the most popular and irresistible flavor... Butter and Soy Sauce! You will think "what? Butter and Soy Sauce together? It doesn't sound that good…" Oh, you are wrong my friend… We must thank japanese people for creating that! The most popular packing is kind of conic shape but for those who really want to enjoy eating Jagabee Butter and Soy Sauce snacks, we present you today THE BOX, that contains 5 packs of 18gr to fully indulge yourself.
Once we open box we will find 5 packages of potatoes. (。♥‿♥。)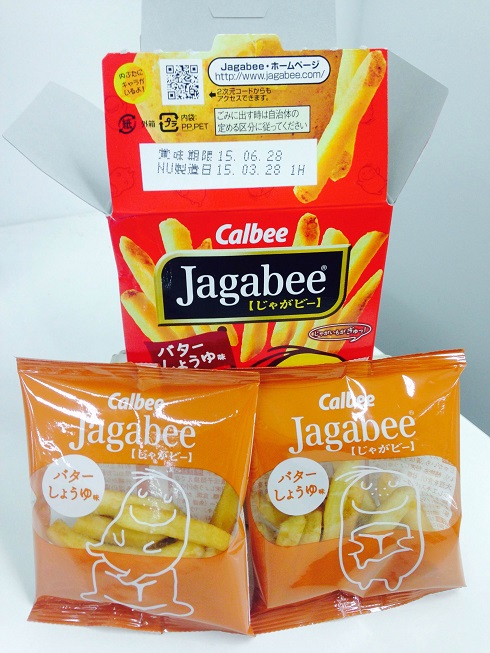 Yes, I know in the picture there is only 2 packages but… don't blame us for sharing and eating the other 3, I already told you that they are delicious!! 。。゛(ノ><)ノ
One of the good points of this box is that comparing to the normal snack packs, the contain the perfect amount to be eaten at once, you don't have to worry about the potatoes getting soggy.
Also one of the other reasons why we like this Jagabee Box is because when you buy it you are helping the Kids Earth Fund, whose leitmotiv is "Kids Helping Kids".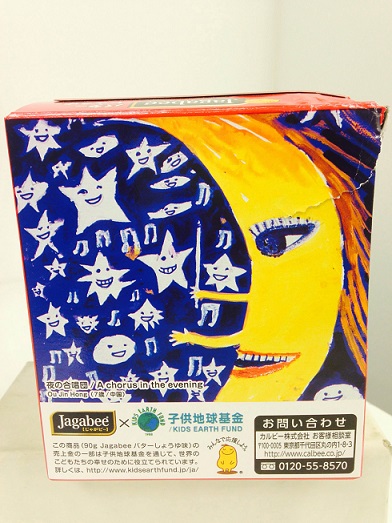 You will not regret eating this snacks!!! (◍•ᴗ•◍)