The Japanese Vacuum coffee maker brews coffee using very simple and basic physical principles. This unique coffee brewing system uses two chambers, usually made out of crystal, where vapor pressure and then, vacuum produces coffee. Despite this coffee maker was invented in Berlin in the 1830s, the design and composition varies and today we want to introduce you Hario Japanese company's vacuum coffee maker and accessories.
This coffee maker is basically a siphon, where heating and cooling the lower vessel changes the states of water, making vapor pressure first pushing water in vapor form to the upper vessel, and allowing the water to fall back again after by cooling the lower one.
The first step is to fill the lower vessel of your Hario Vacuum Coffee Maker with water, then turn on the alcohol lamp and let the water to boil, don't forget to put a new filter in the upper vessel.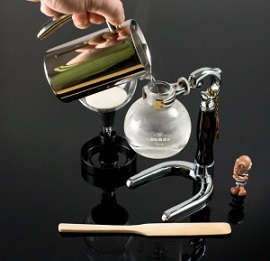 When the water starts boiling, put the desired quantity of coffee on the upper vessel depending on the water and cups of coffee you want to make, remember that the upper vessel should let the vapor to scape the lower vessel for the moment. After putting your coffee in the upper vessel is the moment for the magic, place the upper vessel so it close the vapor scape and the water of the lower one will start going up due to the vapor pressure.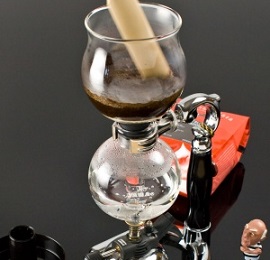 When all the water of the lower vessel fills the upper one, is the moment to mix your coffee with the bamboo stir stick, let the coffee to brew few minutes and is time to start with the last step, you almost have your coffee! The las step is simple, now is time for the vacuum effect, quit the heat so the lower vessel cools and the atmospheric pressure will take the water down again like a vacuum.
If you want to increase the effect, instead of letting the lower vessel to cool off for it self, use a wet cloth to gently help the lower vessel to cool off, and there you have, home specially brew fresh coffee!
Today we bring you the unique opportunity to acquire a Vacuum Coffee Maker from Hairo, one of the best coffee goods Japanese companies, don't forget to check the entire list for the accessories!