You are a true artist, and you love creating, sketching, drawing and painting mostly over any surface. Creativity unlimited! Then, all you need is to find your perfect painting tool in order to let your creativity fly. We have the chosen ones. The fabulous Sakura Coupy pencils. They are a whole colored plastic pencils!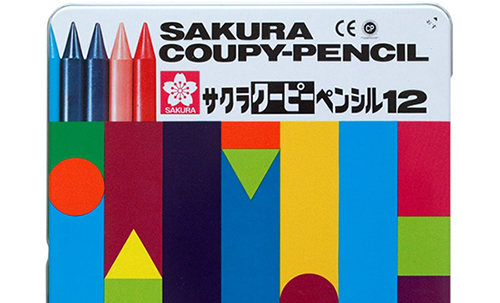 What do we mean when we say "whole colored plastic pencils"? That they are made without wooden case, excellent tool for precise linedrawing. You will be able to use them on most drawing paper (drawing paper, kent paper, wood free paper and so on) and are no messy and greasy fingers when using. Besides, drawings and lines are erasable with a normal eraser, super easy!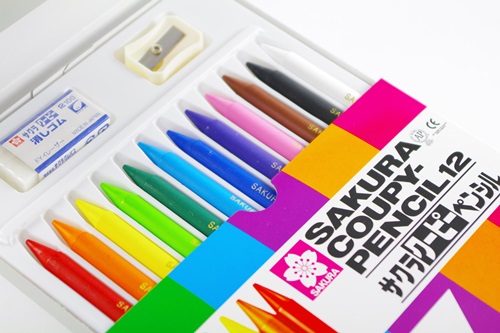 "Coupy" pencils by Sakura are woodless colour pencils manufactured using a combination of pure pigment and polythene wax. These pencils are strong and break resistant, making them ideal for use by younger children. Coupy pencils will produce fine and precise lines and are excellent for shading larger areas. They are usable on most drawing papers and the whole pencil is usable. They can be erased using regular erasers and are clean and easy-to-use. You will find that these fantastic pencils are available in plastic lined, hinged-lidded tins of 12, 24 and 60 assorted colours. Every tin contains an eraser and sharpener.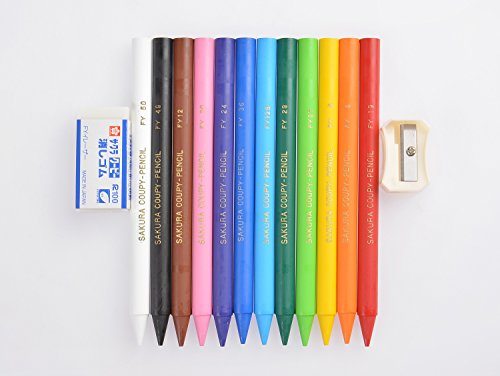 There are many types of collections and you will find an amazing range of dreamy colours such as red, vermillion, purple, orange, rose, yellow, green, light blue, blue, violet, pink, brown, black and white. All the Japanese kids use Sakura: they are not messy and everyone can draw and the amazing colors stays so vivid and neat!