Winter is coming, which means that it's time to stock up on winter goods as much as possible! Many festive items are associated with winter. Warm fireplaces, evergreen trees, hot cocoa, snowball fights, scarves...how about snow globes? Here at J-Subculture, we offer snow globe kits you can use to create your very own snow globe! Who wouldn't want to do this fun craft? You can finally enjoy your own unique snow globe this winter!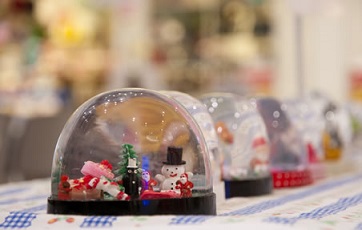 Along with different cases, we also provide glitter you can put inside your snow globe. Just thinking about making the snow globe makes you excited right? You can put what ever you like in it! Some people go for traditional items like snowmen and Christmas trees, while others put their favorite mini figurines. The possibilities are endless! What makes snow globes fun are not only their designs, but also what is in them. Shake the little dome and the snow/glitter within will "fall." You can make your own little world.
Since the holidays are coming up, we'd like to release these early so you can stock up on snow globe kits. Offering DIY pleasure, you can make these personal snow globes as gifts to friends and family, or even make the snow globes with them! They'd make the perfect winter craft project. Make many of your own original snow globes and you've got yourself a swell collection! In this time of DIY, why not make your own winter masterpiece? Just scroll below for the kits we have avaliable for you!