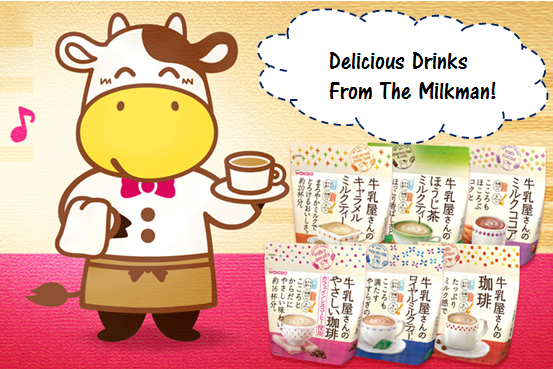 Today at J-Subculture, we'd like to introduce you to a line of instant drinks both you and your children can enjoy! Kick back, relax, and have a nice cup of tea, cocoa, or coffee, made by the milkman!
These instant drinks are produced by Wakodo. The line is called, "牛乳屋さんの~" (the Milkman's ~) + Coffee, Tea, and Cocoa. This line of instant drinks can be served both hot and chilled. With a creamy, milky flavor, these drinks were made with a gentle taste that children and adults love.
In the mood for a nice, milk tea morning? The rich flavor of the milk tea will put you in an elegant mood. It will help you ever so gently arise in the morning. If your child would like to drink, they can drink with you! You can share a precious morning together, filled with sweetness.
Want to escape stress during the day? You can cool off with the milkman's iced coffee. The instant coffee's powder melts easily with cold water or milk. You can add ice cubes for more chill. The bitterness of coffee is balanced with the powder milk combination, so the overall flavor is something both you and your children will instantly love.
The top three drinks avaliable are Milk Cocoa, Milk Tea, and Milk Coffee! You can make these drinks easily in less than no time! While they can be enjoyed hot, you can also enjoy them chilled, so they make for the perfect drink all year round! They were created to be enjoyed by both children and adults. It's a favorite among many families. With soft, light tastes and lots of cream, they make for the best drink along with sweets. You can have a relaxing tea time with cakes, cookies, and other desserts.
Besides Milk Tea, Milk Cocoa, and Milk Coffee, there is also Caramel Milk Tea, Houjicha (roasted tea leaves) Milk Tea, Decaffeinated Coffee, and so much more! With a large variety of subtle yet rich flavors, the Milkman's line of drinks will tempt you to want to try them all. Would you care for a delicious drink? Scroll down for drinks below, avaliable here at J-Subculture!