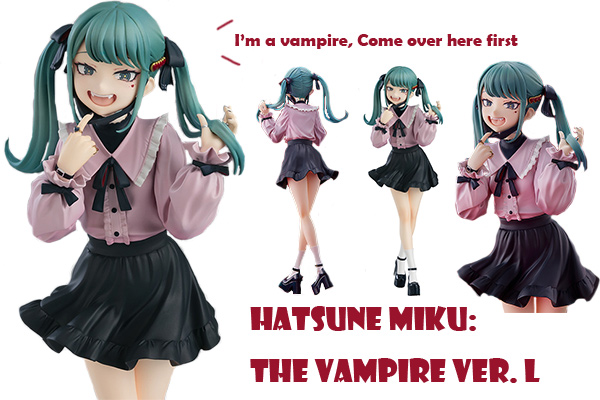 I'm a vampire, Come over here first.
Product URL:
goodsmileshop.com/ja/カテゴリールート/POP-UP-PARADE/POP-UP-PARADE-初音ミク-ヴァンパイア-Ver-L/p/GSC_JP_04520
Presenting POP UP PARADE figures now in a larger size! POP UP PARADE is bringing figure fans a brand new sense of excitement with the L line. HatsuneMiku as she appears in the music video for The Vampire" by DECO*27 has been transformed into a 240mm tall POP UP PARADE L figure!
Be sure to add this rendition of Miku with a mesmerizing gaze to your collection!
You can order from Easy order!
https://www.j-subculture.com/pages/easy_order?fr=b012
●Release Date Mar 2023

●Preorders can be placed from 2nd September 2022 (Fri) from 12:00pm JST until 29th September 2022 (Thu) at 12:00pm JST.
- A maximum of 3 of this product are available per person. Orders that include more than this limit will be cancelled.