Coloring books are an emerging trend among adults right now! Not only is it being used to relieve stress and prevent dementia in the elderly, but it is also found to help improve business skills. That's a surprise!
Coloring books for adults, also known as "colloriage" (French), are characterized by delicate illustrations that look like works of art. There are a variety of coloring books in the market, including illustrations of flowers, landscapes, animals, famous paintings, geometric patterns, and popular characters. Usually, coloring books are for children and what you need is to do is simply fill in the blanks with colors. Coloring books for adults, on the other hand, require more sophisticated techniques, such as layering colors to create complex color expressions and shading in the illustrations.
The first step in coloring books for adults is to imitate the sketch. To imitate means to observe the picture. The challenge that everyone faces is the reproduction of color based on imitation. This is not simply easier than you expect. It is necessary to create a variety of colors based on the three primary colors of red, blue, and yellow. Repetition of this training develops the skills required to gain a deep understanding of the surrounding environment and meaning. As your observation skills improve, you'll not only understand your own problems and challenges but improve your problem-solving skills by applying a variety of ways to solve them. You could use this skill in many situations in business as well as day to day life.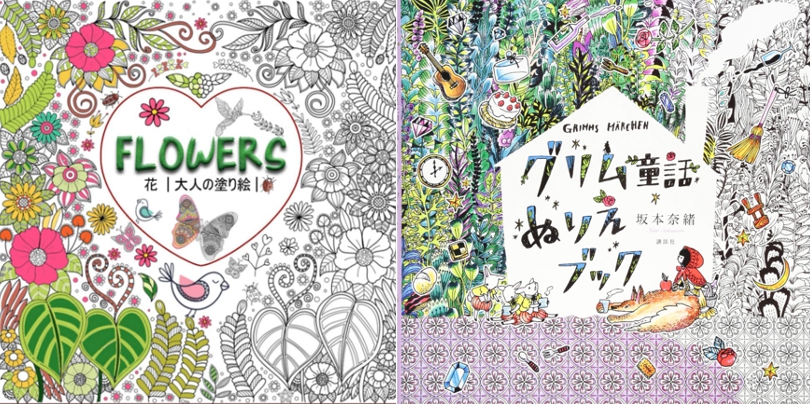 A highly artistic coloring book requires to be completed by overlapping the colors while considering the characteristics and compatibility of each color. Thinking, practicing, and creating are repeated while activating the left and right brains. This concentrating time leads you to the experience of mindfulness!
Coloring books for adults featuring flowers are very popular, but nowadays there has been a lot of interest in the coloring books of Japanese landscape paintings, also Kyo Yuzen 京友禅 (Kimono). Some of the designs are very detailed and difficult to complete, so we definitely recommend checking the reviews before buying.
No hobby? Then trying Coloring books for adults might be a good idea.