Masking Tape is much more than what you knew...
Masking Tape has developed its design and features over the years. Originally, masking tape used to be for painting. It has become available in a wide variety of designs and shapes, and for various uses such as for decorating diaries, notebooks, and greeting cards. It is also gaining attention as a Japanese souvenir.
Ruler
Masking Tape with a ruler printed on it can be used as a ruler just by sticking masking tape somewhere. For example, you can use it on the back of your laptop, inside your tool bag, or on the outside of a pair of scissors, and your work will be much more efficient! This item has had great reviews from users such as: "I use it as a simple stitching ruler by sticking it in front of my sewing machine's needle" and "It's a great substitute for a measuring tape if you stick it on soft materials such as cloth or ribbon".
Calendar
Some masking tapes are printed with dates and days of the week on separate rolls, so just stick it to your notebook and it becomes a calendar. It's definitely useful when you want to customize it like a diary by attaching it to your favorite notebook! There are no national holidays printed so that anyone in any country can use it as a calendar.
Seasons
The various motifs on the masking tape are cut out into different pieces, and each with a different pattern. It is useful for decorating your notebooks or greeting cards. The motifs range from natural ones, such as flowers and fruits, to seasonal and cultural ones, such as Christmas and the twelve signs of the zodiac. Too many to choose your favorite one!
Anime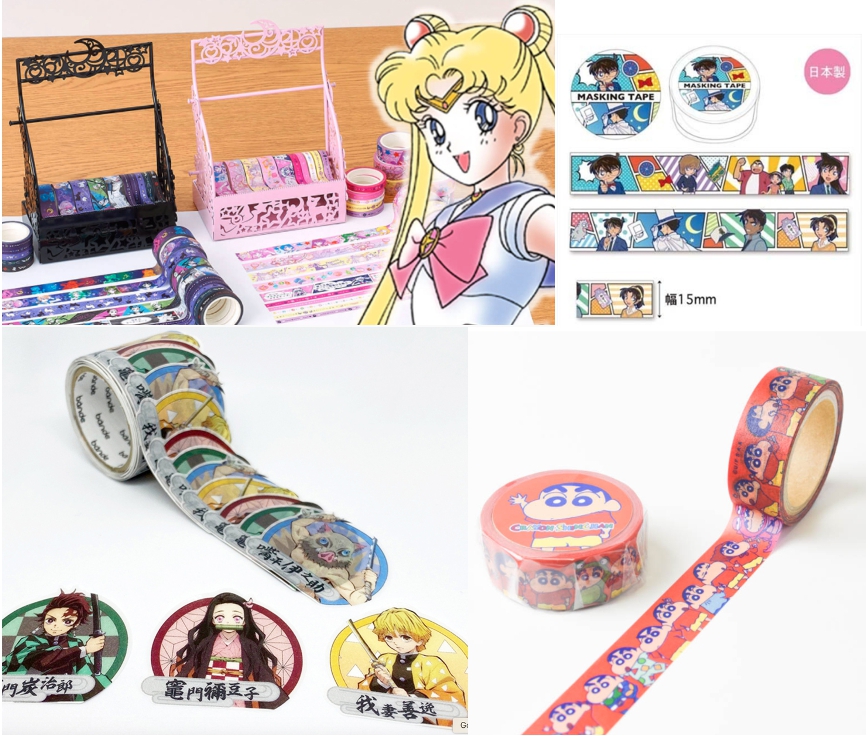 Masking Tape with anime printed on it is also popular domestically and internationally. Crayon Shinchan, Sailor Moon, Detective Conan, Demon Slayer: Kimetsu no Yaiba, and many other animes can be found on the masking tape. You may even find your favorite anime printed on masking tape.