Ojamajo Doremi (おジャ魔女どれみ), alternatively titled Magical DoReMi in English, is a Japanese magical girl anime television series created by Toei Animation company. The main character is Doremi Harukaze who becomes the witch's apprentice. The anime started in 1999, spanning 4 seasons and 201 episodes in total. Following this popularity, an English-language version aired in North America in 2005. Then Ojamajo Doremi aired and became known in Europe, Asia, and Latin America. As the 20th anniversary of this year 2020, the film "Looking for Magical Doremi" will be released in Japan on November 13.
The story is structured by the main character, Doremi, whose trademark is her pretty bunhead. Doremi is an elementary school student admiring a witch. She wishes to have the courage to confess her feeling to the boy she likes by magic. By a strange coincidence, she stumbles into a real witch, Majolica. Majolica hides her true identity as a witch to prevent being cursed, however, Doremi identifies she is a real witch. Then Majolica turns into a frog by a curse! To turn Majolica back to her original form, Doremi along with her best friends, Hazuki Fujiwara, Aiko Seo, and her sister, Poppu Harukaze get trained as apprentices witches.
Ojamajo Doremi has a unique storyline that is very different from the good-hearted and punishing stories where the evil is vanquished by magic. Magic is mainly used as a means to solve the problems of the people around them. The problems are like fighting with friends, stressing about the study, or being afraid of a new environment. Which is very common and seen in any situation in any country. Some of them contain sensitive topics such as love stories, mother and child families, single-parent families, and even racism. The charm of this anime is that Doremi and her friends use magic to secretly solve these problems without others noticing. The girls also grow in their inner lives throughout the story. At the beginning of the story, they are quick to rely on magic, but they gradually begin to solve the problems on their own without applying magic. This encourages many people not only children but adults.
Various goods are being sold to celebrate the 20th anniversary of Ojamajo Doremi. Especially what can't stop having much attention is cosmetics! "The Witch Apprentice Tap Color Palette" is a color palette of 8 colorful eyeshadows that models the Witch Apprentice Tap.
When you open the package, which features MAHO-do from the anime, you will see an illustration of Doremi drawn especially for this color palette. "The Glitter Face Color" is a compact face color with sequins in a clear material lid. The glittery compact that looks like it could really work its magic...! It is just pretty! This series also includes Lip-Gloss, Eye Color Cream, and Pouch.
On November 13th, the 20th-anniversary movie " Looking for a Witch Apprentice " will be released. Following this, "Ojamajo Doremi Cafe 2020" is now open for a limited time. This cafe is based on the theme of a fruit parlor. There offer unique and cute menus in pastel fruit colors inspired by each character's color, a wide variety of collectible items, stationery such as scented postcards, and original cafe goods!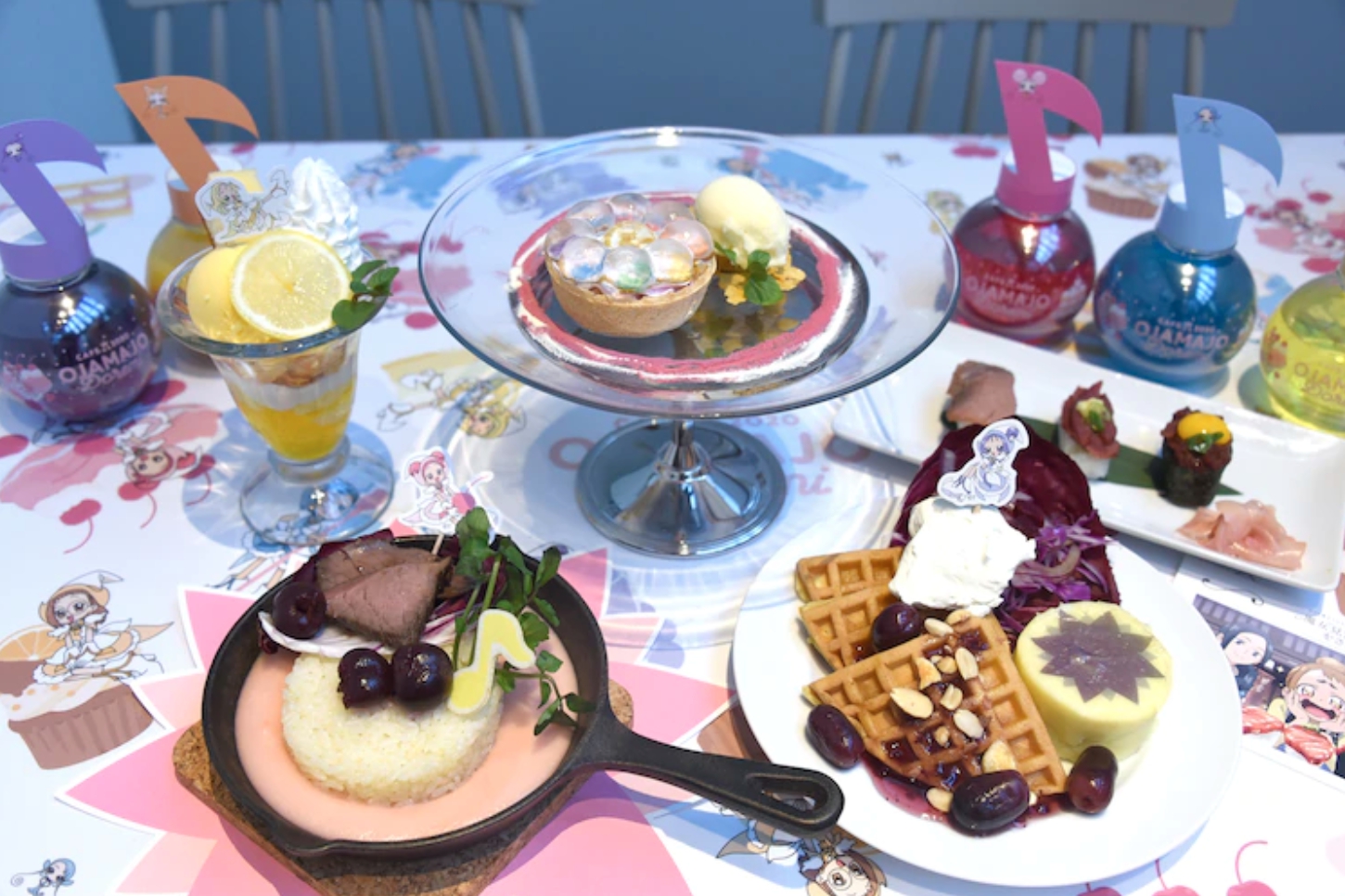 Commemorative goods celebrating the 20th anniversary of Ojamajo Doremi, are also available online. You might wanna check them before sold out!