How have you been sepnding your time during this crazy Covid-19 pandemic? We hope everyone stays safe and hopefully everything goes back to normal in your life. We expect many of you explored Netflix, so did we! Our favorite cartoon on Netflix is
in short).
This shows the survival of Japanese OL (Office Lady), who works in the 21st century in Japan, to go through many difficulties exaggeratedly funny including the pushy superiors & co-workers and the loneliness of being single... This cartoon encourages many Japanese OL and gives an opportunity to know about Japanese culture especially in the office environment for non-Japanese who always wondered about typical Japanese work environment.
The main character, Retsuko, is working in the accounting department in the trading company, trying to manage her stress and social anxiety by going to a Karaoke and singing death metal. One of the reasons that this cartoon surprises us is that Aggressive Retsuko is made by Sanrio. Sanrio is famously known as the mascot company and the mascots they created are all just pretty and cute with dreams, however, the concept of Aggressive Retsuko is being far more realistic and shows a dark side of working culture in a humorous manner.
Characters
A 25-year-old red panda who has been piling frustrations caused by her surrounding superors and co-workers, and by her negative-thinking personality itself. Death metal on Karaoke is the only way that she can release her emotions and stress. Many Japanese office workers have an emphasis on her as she shows her best to deal with a conservatively difficult and dreamless working culture in Japan.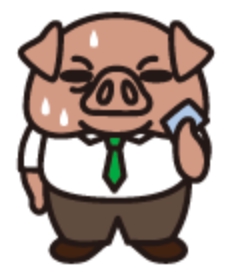 Director Ton
The pig director of the accounting department, who is the symbol of pushing. He constantly gives Retsuko a hard time through blatant sexism or overwork. He spends most of his time practicing golf instead of working, though it is shown that he is an incredibly skilled and speedy accountant despite being unable to use modern technology.
...funny!
Fenneko
Retsuko's fennec fox co-worker and closest friend in the office. She seems calm and even cold, but sometimes she gets emotional to cheer Retsuko up. She has a unique personality to observe people around her.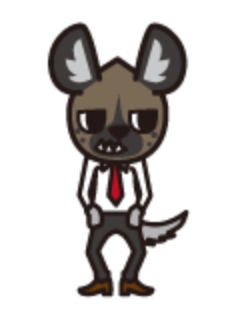 Haida
Retsuko's mild-mannered spotted hyena co-worker, who develops a crush on Retsuko after five years together as friends. Sadly one-way love doesn't work and Retsuko barely recognizes his feeling. He's nice guy, but just nice guy... nothing more than that, you know...
Director Gori
A gorilla lady who works as director of marketing at Retsuko's company.
By chance, she becomes friends with Retsuko, and finds out her secret hobby.... death metal on Karaoke. But she is very supportive and understanding of Retsuko. Despite being 40 years old and incredibly career-driven, she strongly wishes to still get married, and continues to make bold attempts to find "the right one".
We are a big fan of Gori!
Ms. Washimi
An eagle bird who works as the secretary to the company's president.
She is a close friend with Gori, and eventually gets along with Retsuko too. She is confident, smart, and beautiful, performing perfect jobs for a useless president. Her advice to Retsuko is always so accurate and so cool...!
Sound interesting? You'd explore deep, dark, and funny aspects of Japanese working culture!