Have you always dream of having a group of forest friends in your cupboard? Now with KINTO's Mugtail mug series you can. KINTO's minimalist designs are life-long and frequently useable in everyday life, original and well designed housewares.
KINTO CO.,LT was established in 1972 as a wholesaler of porcelain/ceramic tableware in Shiga prefecture, Japan. From the mid 1980's, KINTO imported and distributed selected European tableware/glassware brands to Japan until 2000. In the mid. of 1990's, they realising that Japanese people demanded new table and kitchen products fits to Japanese lifestyle and, after that period, they've been developing their own original design products.
KINTO Mugtails are a series of eight forest animal 3D drawings including a squirrel, bear, rabbit, fawn, moose, hedgehog, fox and a cat.
KINTO Mugtails are perfect for bringing elegance and fantasy to your table, adding a touch of contemporary design to your interiors and is also the perfect choice for drinking hot cocoa by the fire. Just like forest animals out of a fairy tale, their feathery tails, designed to match the animal motif, are on matte finished mugs, so Mugtail succeeds in bringing an elegant atmosphere.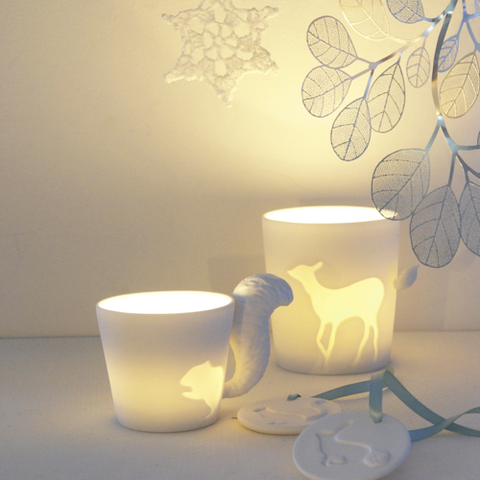 With these special mugs from the KINTO's Mugtail mug series it appears as if a Grimm´s fairytale has come to life. You can choose each one for your favourite din, create an eclectic tea/coffee set or a whimsical series of desert cups use them as interior decoration objects with a tealight candle inside, the embossed silhouette of the posing animals are illuminated in the dark and provide a lovely, romantic atmosphere.
Regardless of whether they are used as a mug or a candle holder, KINTO's Mugtails provide everywhere a delightful atmosphere, which one would you choose?