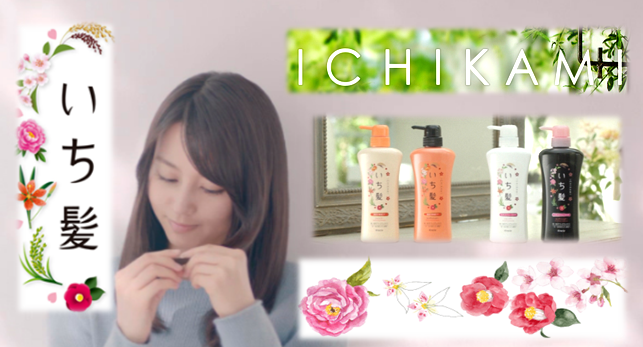 「一髪、二姿」(ichikami, nisugata).
These are the words that have been passed down since old times in Japan. By taking care of your hair through keeping it shiny, healthy, and smooth, you can bring out the beauty within you. As you may know, the Japanese care for their hair as much as they care for life. Having beautiful hair is life. With hair that is glossy and soft, you can feel beautiful from the inside and out.
The line of hair care products, ICHIKAMI, was created with the sincere wish for everyone to have hair that they love.
Through caring for your hair with ICHIKAMI hair care products, you can upkeep your beautiful hair and strengthen it, protecting it from future damage.
That is one of the concepts of ICHIKAMI, "protection of beautiful hair." The Japanese botanical essences within each "recipe" help to repair currently damaged hair and prevent future damage at the same time. The Japanese believe in borrowing the precious blessings of nature to make ourselves even more beautiful. ICHIKAMI products use natural flowers such as cherry blossoms and camellias, as well as natural plants such as rice and soy. Each botanical essence works in a different way to help our hair, strand by strand.

There are three shampoo, conditioner, and treament series to choose from, depending on your hair type and what kind of hair you desire. Products from the
"Moisturizing"
line helps to repair damaged hair while working to moisturize both your hair and scalp. If you suffer from dry hair and split ends, this line of hair care products will work wonders for you. The scent of these products are a mix of apricots and cherry blossoms. Products from the
"Smoothening"
line also helps to repair damaged hair, as well as help to prevent friction to hair strands. They also work to seal cuticles and smooth the surface of your hair, making it silky to the touch. The scent of these products smell fresh and dainty, like cherry blossoms in bloom. Last but not least, products from the
"Revitalizing"
line works to repair damage from inside and out of each hair strand, while also working to provent hair thinning. They'll bring out luster and shine from your hair, while upkeeping your volume. The scent of these products are a mix of pomegranates and cherry blossoms.
Besides these hair care products, we have sprays, oils, hair packs, and more from ICHIKAMI. Care for your hair as if it were your life. Remember, ichikami, nisugata. Scroll below for products at J-Subculture!