For products, scroll down to the bottom ↓
STUDIO GHIBLI
does not need much introduction, we think. With its many acclaimed works under the excellent direction of MIYAZAKI HAYAO it rose to one of the most prominent anime production studios in the industry. Feature films such as SPIRITED AWAY and PRINCESS MONONOKE awed the audience, earning the studio numerous prestigious awards at home and abroad. For many fans of the genre, Studio Ghibli movies are the epitome of animation making with its fantastic settings, wonderful and well-thought out storytelling as well as strong characters that lead through the stories.
The company ENSKY on the other hand, will be less familiar to many, but is maybe a name to remember, if you are into CHARACTER GOODS. This is where the company specializes in and it has the licences for manufacturing character toys and collectibles for many popular anime/manga and game franchises. Such a character is for example
KIRBY SUPER STAR
, of which we have introduce already a couple products of the brand. Other characters are from series like SAILOR MOON, YOKAI WATCH, DRAGON BALL, DORAEMON, NARUTO, FREE! and many more. Yet the company is not limited to only animated characters in its products, it also supplies merchandise of actual people, like Fukuoka born Japanese rugby star GOROMARU AYUMU and admired IDOLS.
Alike the plenitude of characters it focuses on, Ensky has similar diversity when it comes to product types ranging from accessories, straps, stickers to stationery products, stacking board games, trading cards over to calendars. One product type that features prominently in its assortment though, is the one of puzzles, standard and 3D. The puzzle kind we want to bring you closer here, is the one of ART CRYSTAL JIGSAW PUZZLES, which is a similar puzzle series to
TENYO's DISNEY STAINED GLASS ART
, which we introduced in another article.
Ensky brings us this beautiful and highly decorative Art Crystal puzzle series of Studio Ghibli movie themes with MY NEIGHBOUR TOTORO, KIKI'S DELIVERY SERVICE, PONYO and CASTLE IN THE SKY. First enjoy the assembly of the lovely images that will emerge piece by piece in front of you. Then, after you could complete the puzzle, choose your favorite spot, where you want to display and behold it. It can be a regular wall, but to bring out the full effect of the colorful transparent pieces, it is best to place it near a glass front or a windowsill, as shown in the pictures. The puzzle pieces, using a special material, are solid and fit together tightly, so glue or other adhesives won't be required. There are dedicated frames available, which we added down below with the puzzles in the product selection.
Ensky's Art Crystal jigsaw puzzle series that comes in sizes of 126 or 208 pieces, makes for a great collectible of your favorite Ghibli characters or neat gift for anybody, who enjoys the puzzle hobby. Please find available products below. Should there be a product you can't find, please don't hesitate contact our team, who will be happy to assist.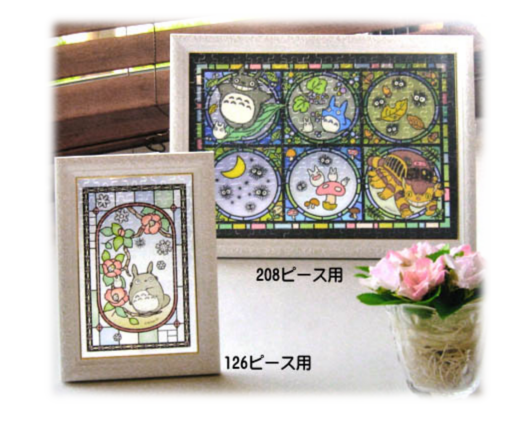 Please take your time to browse our various offers. Should you search for a particular item that is not listed below or otherwise not detectable in our storefront, please don't hesitate to contact our team, we will be happy to assist with any query and to search for specific items. Also PRE-ORDERS are possible in most cases. In the event that you would spot any errors for products, offers or other areas on our page, please inform us about it, so we may improve our services to provide a better shopping experience for the future. For the actual products, please be aware that they could differ from the images displayed here. With all that said, please enjoy your tour in our shop!