Pentel is one of our favorite Japanese stationery goods company, their products design and manufacture follows the most strict quality control standards. Pentel's designs are characterized by that peculiar Japanese way of thinking, and their Pentel Multi 8 multi pen is a shining example of this. Available in two different versions, the Pentel Multi 8 lead holder and the Pentel Multi 8 Ballpoint and Lead Holder. The definitive multi pen!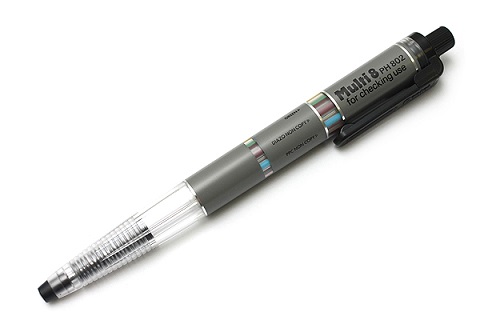 The Pentel Multi 8 lead holder is able to hold 8 different lead colors, red, blue, brown, orange, yellow and green, in addition this unique multi lead holder features 2 non copy colors, the Diazo non copy and the PPC non copy. This especial colors won't show up when you copy them, the Diazo won't show up when using a Diazo or wet type copy machine, and the PPC won't show up when using a PPC or dry type copy machine, the most modern copy machines. The leads are 2 mm and if you purchase our set you'll get the Pentel Multi 8 lead holder, 8 color refill and a lead sharper.
This is a perfect tool for an artist, you'll have 8 colors in just one multi lead holder, just rotate the plastic clip to the desired color and press the top button, the lead will extend, now you just have to adjust the lead with your finger an that's all!
To use a refill, turn the top knop until its silver line aligns with the black arrow on the top of the plastic clip. This will release the lead when you press the top button. Keep it pressed, and the clutch claw at the tip opened, so that you'll able to insert your refill lead through the tip. Once your refill lead is inside, turn the knob again so that the line is not matched up with the arrow, this way the holder will catch the lead at the metal end.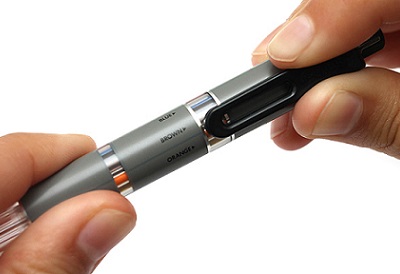 The Pentel Multi 8 Ballpoint and Lead Holder is a variation of the lead holder version, it features a 0.7 mm 3 ballpoint pens in blue, black and red color in addition to a 2 mm 5 leads, the PPC non copy, hb, red and fluorescent pink and yellow color.

J-Subculture brings you this unique multi pen in their basic set version or if you already have one, you can get the refills from us. You cant miss this chance to get one of the most useful multi pens ever, boost your creativity with Pentel and J-Subculture!