A popular must-do for Japanese-styled make up is putting on false eyelashes. Japanese people tend to have eyelashes that are fine and short. Since most Japanese people want to go for the dolly-eyed, anime-styled look of bigger, fuller eyes, many use false eyelashes when putting on their makeup. Putting on false eyelashes volumize one's eyes, producing a more open-eyed, brighter look. False eyelashes are a staple to "kawaii" make up and fashion. Depending on the type and color of the eyelashes, the look of one's eyes change dramatically: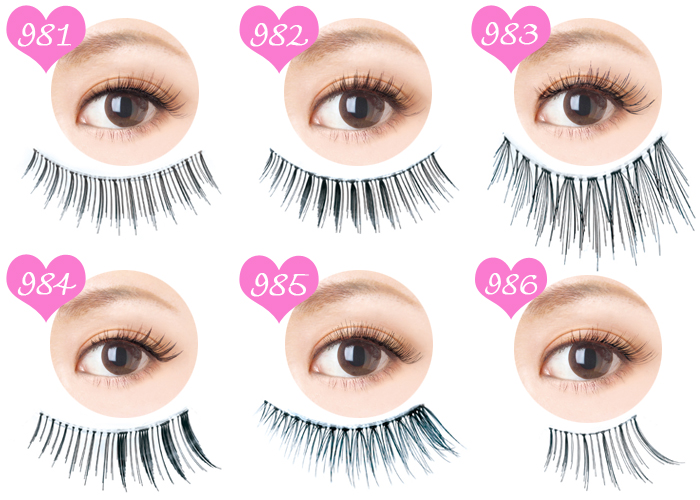 False eyelashes have grown so popular that they're sold almost everywhere in Japan, even in convenience stores! Japanese false eyelashes tend to look natural, so it appears as if you're not wearing false ones at all. However, there are also flashy designs avaliable with thicker, bolder lashes. For one who'd like a change in make up, Japanese false eyelashes would make for a fun change. Since they also come in colors besides black and brown, they're great for costume parties and for cosplaying as well. The act of using false eyelashes in make up has become a part of Japanese "kawaii" culture. There's even a song about false eyelashes by Kyary Pamyu Pamyu (a famous Japanese singer) called, つけまつける tsukematsukeru, which is an ubpeat song about a girl putting on false eyelashes. The singer produced her own line of false eyelashes as well:
Aren't they absolutely "kawaii"? If you want to try out Japanese make up, the first step would be false eyelashes--your eyes will be even more adorable and full of pop!