Japanese stationery companies have the capacity to take those well known stationery goods, and transform them without modifying their usability. They´re capable to create ordinary stationery goods which seem to be totally new by just adding little modifications to the key idea, developing brand-new products that everyone know how to use. Midori is one of those Japanese stationery bands who focus their developments efforts towards this idea, brand new well known useful stationery products.
If you miss it, last week we introduce the Midori D-CLIPS, high quality and adorable animal shaped paper clips, today we bring you the Midori CL line, compact and colorful stationery!
Midori´s CL line goods are small, carefully designed, friendly to both right-handers and left-handers, easy to store stationery products. The small size of this stationery products is perfect to bring this colorful, Scissors, Stapler, Tape Measure and Pen Pouch wherever you go!
Lets take a look to Midori´s CL line products main characteristics like their foldable stapler. This stapler is foldable by displacing the metal fittings inside the stapler, probably one of the smallest staplers ever, it fits easily inside a pen case or a pouch, this easy to carry stapler is a must in your pencil case!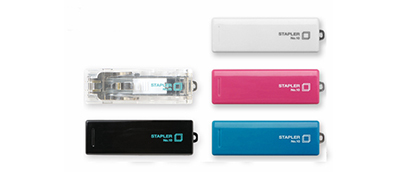 The Midori CL Tape Measure is another wonderful product of this line, made of strong glass fiber this tiny measure tape fits anywhere, it´s capable to measure up to 1,5 m or 5 feet, available in blue, pink and white color. This is an extremely compact measure tape, only around 4cm (1.6 inches) height x 4cm width, and has a side release button to snap it back inside the case!
We instantly fall in love with the design, color and usefulness of this products but if we have to pick one of them our clear winner is the Midori CL compact scissors, this scissors size is ridiculous, when folded, just 7 cm or 2,7 inches. In spite of their size, they can really cut almost any kind of paper or even cardboard, designed for both right and left handers, this special scissors are very easy to take with you!
Midori´s CL line products design, extremely compact size and durable materials make them the perfect stationery goods if you´re searching for something easy to keep and take with you, don´t hesitate to purchase one of this wonderful Scissors, Stapler, Tape Measure or Pen Pouch!