One of the top products sold at J-Subculture would be stationery supplies. And why not? Japan has the hottest new stationery, that are both trendy and functionable! Brilliant ideas for stationery come to life in Japan, expanding the numerous kinds of stationery out there. There are so many pens, markers, pencils, and other writing untensils in vast ranges of colors and designs to choose from.
Today, we at J-Subculture would like to introduce you to the Japanese company Pilot and its line of "Pilot Frixion Color Pencil-like Erasable Gel Pens!" What a mouthful of a name, right? But it's alright if you can't remember all that, because its long name pretty much sums up the product for you. These incredible pens are a combo of color pencils and pens. Despite being ballpoint pens, they have the qualities of color pencils, so you can draw and write with the feeling of using pencils. They have a proper grip to their bodies you can use to hold your pens better. Their ink resemble the ink of gel pens, so you can create countless works of art, vibrantly and colorfully.
They come in a variety of colors, all from the rainbow. There are a total of 24 colors on the market, all from variations of your favorite hues and shades. The best part? They're erasable! You can use these "pens" over and over again with ease. You'll never have to worry about messing up your beautiful works ever again! The technology used in each Pilot Frixion product is very unique; its erasable pens in particular. To erase, the heat that arises from friction is involved. When you erase something, you normally rub an eraser against the surface you drew/wrote on, correct? That rubbing action causes friction, which leads to heat. The heat that you generate is what makes the ink disappear for these pens! Isn't that rad?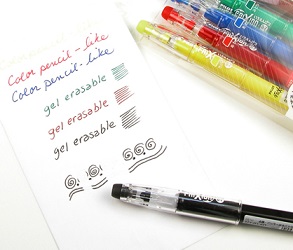 Please keep in mind that these pens are quite special. The ink they contain is thermo sensitive, which means that if you leave them in places of hot temperature for too long, it'll dry up pretty quickly, and you won't be able to use the pens anymore. If the ink does dry, be sure to put it in a freezer for awhile. Then the ink will reappear! (unless the pens themselves have taken too much damage before). There are so many colors to choose from, so why settle for just one? And while you're at it, be sure to browse through all the other Pilot Frixion products we have avaliable for you here, at J-Subculture!